Summary of event and post-workshop activities, including COVID-19 discussions: The National Institute of Standards and Technology (NIST) has engaged with the International Ultraviolet Association (IUVA) to explore ways to address these challenges and help advance measures of device disinfection efficacy, reliability, and operation. As part of that effort, NIST and IUVA co-hosted an interactive meeting focused on examining measurement, standards, technology and data research needs to promote innovation in the effective use and implementation of ultraviolet-C (UVC) technology in healthcare settings for the reduction and prevention of healthcare associated infections (HAIs). HAIs are recognized as an important public health and patient safety issue. UVC devices are shown to reduce the incidence of many HAIs, but the adoption of the technology by the healthcare industry has been sparse. There is a lack of performance standards to help healthcare managers make informed, credible investment decisions. Measurements and standards in the light and biological sciences are needed to accelerate the adoption of UVC technology in the healthcare market.
The event built on the efforts of the IUVA Healthcare/UV Task Force, dedicated to the development of efficacy guidelines and standards to help advance the adoption and safe use of UV technologies. For more information on the task force, please contact Troy Cowan, troy [at] visionbasedconsulting.us.
The NIST IUVA workshop consisted of two days of targeted programing as described on this website. Attendees learned about the latest developments in UVC technology, engineering and operations, and regulatory issues related to disinfection. Discussions on standard needs in both the physical and biological performance areas for UVC disinfection devices were core to the event. All measurements, standards and data supporting UVC disinfection were discussed in the context of innovation and implementation to support public health and combatting infectious disease. Top experts from the medical community, industry, academia and government spoke to 150 attendees from the public health community. See the distribution of attendees from the different sectors of the community here: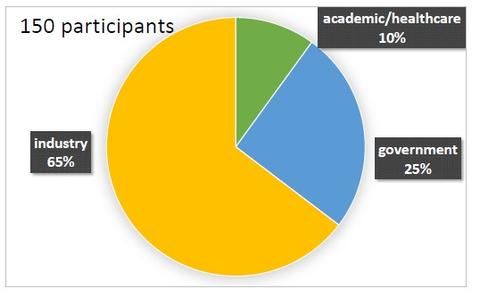 Post event activities, with attention to the COVID-19 pandemic: Material from the event is being used by the community for the development of proposed performance standards for UVC disinfection devices for the application to a number of pathogens, including best practices for COVID-19 abatement. Follow-on discussions took place at the 2020 IUVA Amercias Conference, March 8 – 11, 2020. The following three special sessions took place and more information including presentation abstracts are available on the 2020 IUVA Americas Conference website. Of special interest there was a special session titled "UV for Healthcare Applications" and presentations by Dr. Cameron Miller, NIST (on behalf of Dr. Richard Martinello) titled "Defining Standards and Metrology Needs for Ultraviolet Disinfection Technologies & Healthcare Associated Infections through Industry and Federal Collaboration: a summary of the NIST/IUVA workshop", Dr. Arthur Kreitenberg, Dimer, LLC, titled "Can UVC Disinfect Fabric Hospital Privacy Curtains?"; and Marvin Ruffin, Exceltias Technologies, titled "Preventing hospital-acquired infections with UVC LEDs". In addition, there were two focused panel sessions with subject matter experts from industry, academia, and government agencies:
What's Going on with UV Healthcare Efficacy Standards?
Moderator: Troy Cowan, IUVA
Panelists:
Dr. John Boyce, J.M. Boyce Consulting, LLC – UV deactivation dosages
Dr. Matthew Hardwick, Resinnova Labs – Efficacy testing
Dr. Cameron Miller, NIST – UV testing
Alex Baker, Illuminating Engineering Society – ANSI activities
Zhiming He, Foshan Comwin Light & Electricity (given by Troy Cowan,
IUVA) – ISO activities
UV vs. the Coronavirus - What's the Situation and What are We Doing?
Moderator: Troy Cowan, IUVA
Panelists:
Dr. Richard Martinello, Yale School of Medicine (given by Dr. John Boyce) -
An epidemiology perspective
Dr. John Boyce, J. M. Boyce Consulting, LLC - UV's likely
impact on Coronavirus based other similar pathogens
Zhiming He, Foshan Comwin Light & Electricity- An update on the situation
in China (was not able to attend)
Peter Gordon, Bolb, Inc., - A UV walkthrough disinfection chamber now
being used in China
Dr. Art Kreitenberg, DIMER UVC Innovations - UV aircraft disinfection
of coronavirus and beyond
For more information on IUVA and the IUVA Americas Conference, please contact Mickey Fortune, mfortune [at] iuva.org.