Overview
The Workshop on ultraviolet (UV) disinfection technologies was held January 14 – 15, 2020 at the National Institute of Standards and Technology (NIST) in Gaithersburg, Maryland. The highly successful public event was cumulated from the on-going, strong collaborative effort between the UV industry, academia, government and public health communities to identify the drivers and impediments to deploying UV technologies in healthcare settings for pathogen abatement.
The workshop's technical focus was on the effective design, use, and implementation of UV technologies for the prevention and treatment of healthcare-associated infections in complex hospital settings and medical devices. These include patient rooms, operating theaters, common staging areas, ventilation systems, personal protective equipment, and devices for the reprocessing and disinfecting medical instruments. A special emphasis was placed on identifying critical metrology and standards needs for the vital benefit of patients and better public health.
Outcomes of the Workshop
Several immediate outcomes from this successful collaborative event are:
an elevated awareness of the advantages afforded by UV in disinfection technologies;
a demonstration of the immense advantages of public-private endeavors between industry, academia and government to date;
the establishment of a focus group to synthesize information from the event on the current state of the industry and science into peer-reviewed papers for open-access publication in the Journal of Research of NIST; and
the development of a summary article to help guide, inform and fuel collaboration among industry and healthcare stakeholders to meet the challenges, needs and opportunities in UV technologies for disinfection and controlling antibiotic resistance.
Three Challenge Questions
Three challenge questions with distinct themes of health, innovation and security, respectively, were raised to find ways to advance the wide-spread use of UV technologies in healthcare applications for better public health:
How can the UV industry collaborate to have a transformative impact on public health, including infectious disease control and prevention? (UV for Health)
How can fundamental discovery-based research, with support from federal science agencies, advance UV for better health through innovation? (UV for Innovation)
How can strategic investments in measurement equipment, standards development, advanced technology, and data analysis enable UV to underpin global public health, security, and economic strength? (UV for Security)
Recommendations
A set of recommended research directions for the UV community were developed to answer the challenge questions. These recommendations are intended to inform research efforts in UV technologies for healthcare applications, with the end goal of increasing adoption of UV technologies for pathogen abatement in healthcare environments.
Measures of success will be enhanced multi-sector engagement in research and innovation, greater efforts in discovery research to product development, a growing community of next-generation researchers and practitioners, and better patient outcomes from healthcare-associated infections. The findings of the workshop are provided below to express the enthusiasm and excitement of the private and public sectors to deeply engage in applying UV for health, innovation, and global security. The recommended research directions were identified as critical for realizing the widespread use of UV for reducing and preventing infectious disease and to enable better control of antibiotic resistance worldwide.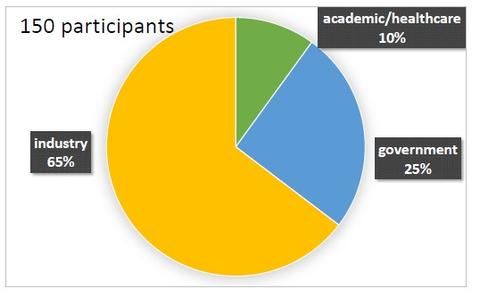 The workshop drew 150 attendees1 from the public health community with top medical, academic, and policy experts participating.
Next Steps
Immediate (by six months):  host webinar on workshop output and update community on current challenges and opportunities for UV healthcare applications

Short term (1 – 2 years): establish coordinated framework among stakeholders for consensus-based standards development and begin work on PROs

Near-term (by 3 years):  develop and disseminate information to reduce or eliminate occupational and environmental health hazards for UV technologies in healthcare

Long term (4+ years): developing new public-private programs in UV technology and applications
Workshop Leadership Team
Chairs:  Cameron Miller, NIST; Richard Martinello, Yale School of Medicine
Program Committee & Report Focus Group*:  Castine Bernardy*, University of New Hampshire; John Boyce, J.M. Boyce Consulting, LLC; Alice Brewer, Tru-D SmartUVC; Joy Dunkers, NIST; Gary Cohen, IUVA; Troy Cowan*, Vision Based Consulting; Mickey Fortune, IUVA; Peter Gordon, Bolb, Inc.; Norman Horn*, Seal Shield (Lead); Matthew Hardwick, ResInnova Labs; John Kasianowicz, NIST; Nancy Lin, NIST; Claes Lindahl,  Intellego-Technologies; Yaw Obeng, NIST; Michael Postek*, University of South Florida; Dianne Poster*, NIST (Chair); David Weber, University of North Carolina
For more information:  https://go.usa.gov/xG38S.
-------------------------------------------
1Attendee affiliations:  AbCellera Biologics, Inc.; Aerobiotix, Inc.; American Dental Association; American Ultraviolet Company; Aquisense Technologies; Bolb, Inc.; Bridgeport Magnetics Group; Canopus Water Technologies, Inc.; Center for Devices and Radiological Health, U.S. Food and Drug Administration (FDA); Centers for Disease Control and Prevention (CDC); Central Texas Veterans Health Care System; Children's Hospital of Philadelphia; CleanHealth Environmental; Clemson University; Cleveland Veterans Affairs (VA) Medical Center; Crystal IS; Dimer, LLC GermFalcon/GermRover; Diversey, Inc.; Dowa International Corporation; EDHM Consulting; EIT, LLC; Evergreen UV; Excelitas Technologies; Germitec; Gigahertz-Optik; Halosil International, Inc.; Heraeus Noblelight America, LLC; Higuchi, Inc, USA; Hospital of the University of Pennsylvania; Hospital Safety Solutions; Hydraluvx; HyGriene IEQ; Illuminating Engineering Society; Illumination Technology, Inc.; ILT; Intellego Technologies; Internation Ultraviolet Association; International Light Technologies; IPC Consulting Group, LLC; J.M. Boyce Consulting, LLC;Johns Hopkins Hospital; Light Sources Inc.; LightLab International Allentown, LLC; LTI Optics, LLC; Lumagenics; MediComp Vienna, VA; National Institute of Occupational Health and Safety; NIST; Ohio State University; Oude Koehorst Nedap; Presidential Advisory Council on Combating Antibiotic-Resistant Bacteria; Pathogen Solutions; Porex; Prescientx; Professional Disposables International; Proximity Systems; PurpleSun; ResInnova Laboratories; Seal Shield, LLC; Skytron; Sonata Scientific; Steriliz; Surfacide; Trinity UVC Lighting, LLC; Tru-D SmartUVC, LLC; U.S. Department of Health and Human Services; U.S. Department of Homeland Security; University of Colorado; University of Colorado Boulder; University of North Carolina; University of South Florida; Ushio America Inc.; UV Light Solutions; UV Resources; UV-Concepts Inc.; UVDI; Vartest Laboratories; VioLume Inc.; Vytis Shield; W. L. Gore & Associates; Xenex; Ximedica; Yale University; ZED Ziegler Electronic Devices GmbH