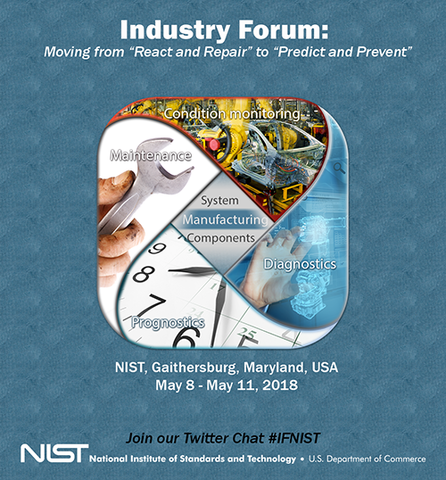 DOWNLOAD THE FINAL INDUSTRY FORUM CONFERENCE PROGRAM HERE and PRESENTATIONS ARE AVaiLABLE FOR DOWNLOAD IN THE TABLE AGENDA AT THE BOTTOM OF THIS PAGE.
The National Institute of Standards and Technology (NIST) is hosting an Industry Forum to bring Industry, Government, and Academia together to discuss the current trends, successes, challenges, and needs with respect to advanced monitoring, diagnostic, and prognostic technologies to enhance maintenance and control strategies within manufacturing operations.  This event will bring together professionals to discuss the current and emerging capabilities and challenges with respect to designing, deploying, verifying, and validating monitoring, diagnostic, and prognostic technologies for manufacturing operations including those involving interconnected, Internet of Things (IoT) technologies. Click here to download this announcement.
Participants
Personnel expected to attend the overall forum include manufacturers from large and small to medium-sized enterprises, technology integrators, technology developers (both hardware and software), academia, standards development organizations, and government entities. Personnel interested in presenting and/or serving on a panel must submit an abstract for consideration.  Presentations are not required for attendance, but are encouraged to drive discussion. Please see the Abstract Submission Guidance section for additional details. Download Submission Form here.
Attendee Benefits
Hearing the latest success stories from manufacturers who have reduced their equipment/process downtime, decreased their maintenance costs and defective part counts, increased their productivity and profits, maintained (or improved) their quality, and/or reaped other benefits and savings through implementing advanced monitoring, diagnostic, and prognostic technologies
Learning about the latest advances at the factory floor level in monitoring, diagnostics, and prognostics, including active research efforts at NIST and other organizations
Understanding how technological challenges were overcome to implement monitoring, diagnostic, and prognostic technologies
Networking with other industry professionals who have achieved similar successes, face comparable challenges, and/or can offer solutions
Providing critical input to an ASME committee focused on producing standards and/or guidelines to support monitoring, diagnostic, and prognostic technologies at the factory floor level
Agenda
The forum will feature a combination of keynote presentations, panel discussions, and interactive Q&A sessions with industry personnel focused on monitoring, diagnostic, and prognostic technologies. Sessions are expected to feature speakers from a wide-range of industries and backgrounds with some specific sessions dedicated to the large and small to medium-sized manufacturing communities, separately. The forum's last day will present an opportunity for all attendees to contribute to an emerging standards effort, led by the American Society of Mechanical Engineers (ASME), that is aimed at producing guidelines to assist manufacturers with the design, implementation, and assessment of monitoring, diagnostic, and prognostic technologies within their own facilities. Industry participation and feedback is critical; the more input the community provides, the more relevant, broadly-applicable, and beneficial the output guidelines will be. The output guidelines are envisioned to increase productivity and efficiency, and decrease equipment/process downtime to ultimately lead to increased profits and decreased costs.