A Message from the MML Director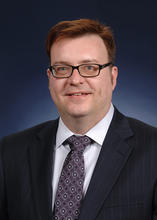 A key part of NIST's mission is advancing measurement standards and technology to improve the quality of our lives, and little is more central to the quality of our lives than our personal safety and security. Across MML's research portfolio in the biological, chemical, and materials sciences, from advanced materials development to chemical identification reference data and clinical diagnostic standards, our work helps industry ensure and enhance our personal safety.
MML scientists engage in a wide-range of security-related research, from developing and standardizing contraband screening technologies to developing materials that can protect better, and much more.  This past summer MML updated its Mass Spectral Library, used by virtually every manufacturing sector to identify chemicals, and in the identification and detection of chemical weapons. MML researchers also recently demonstrated screening techniques to help prevent accidental exposure to synthetic opioids, including fentanyl, helping law enforcement address the opioid crisis.
In addition to our research focused on threats posed by contraband materials, MML research also helps keep us safe in our everyday lives.  With cutting-edge instruments, methods and standards, we accurately determine the composition, structure and properties of materials, and explore how new materials might outperform those used in existing products. In this issue of Material Matters you can read about recent research that gives us a better understanding of the fibers used in modern body armor, as well as an effort to develop better materials for helmets and pads to protect against traumatic brain injury. 
Other research highlighted in this issue demonstrates less direct, but no less important ways that MML research helps promote our welfare – exploring better treatments for diseases like Alzheimer's, a new test for evaluating antibiotics more quickly, improving a blood test used to evaluate the risk of heart disease, and more accurately determining the sources of carbon dioxide in the atmosphere.
Body, mind, heart – our research is leading to enhancements that promise to help protect us and improve our lives in innumerable ways.  Across all of these sectors and disciplines, MML research shares a desire and drive to harness materials to improve human life, making us safer and more secure, so we can focus on the things that really matter. 
* During the search for a new MML director, Michael Fasolka, long-time MML deputy director, is acting director of MML.