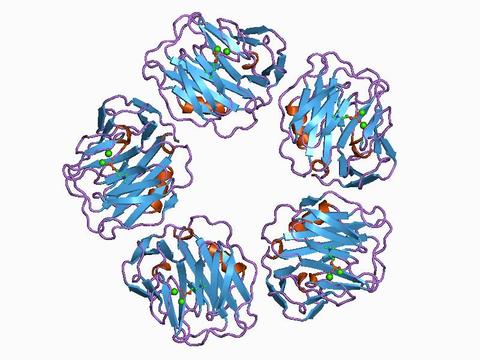 NIST scientists have thoroughly measured and characterized more than 1,300 physical products, NIST Standard Reference Materials®, to help people in industry, academia, and government agencies calibrate instruments, verify their test methods, and develop new measurement methods. NIST reference materials, for example, help manufacturers make interoperable parts in far-flung facilities, medical labs check the accuracy of cholesterol and other clinical tests, and scientists monitor environmental threats.
---
What
A unit of the SRM contains 3 vials, each with 1 milliliter of a solution of recombinant CRP.   A certified concentration value for CRP is reported along with reference density, relative average mass and concentration values (expressed in terms of grams per liter).  This SRM® is primarily intended for use in calibrating procedures and devices for the determination of C-reactive protein (CRP) in human serum. It can also be used for value-assignment of in-house calibrator solutions and control materials.
Why
C-reactive protein (CRP) is a biomarker for inflammation due to infections or other medical conditions (e.g. rheumatoid arthritis or lupus).  Because persistent low levels of inflammation can also be associated with cardiovascular disease, high-sensitivity CRP (hs-CRP) assays, that can detect low levels of CRP in serum, are used to predict risk of heart disease combined with other mitigating factors.  In a healthy individual, CRP is found at a level less than 1 milligram per liter (mg/L) in serum. Recent evidence suggests that a CRP level between 1 mg/L and 3 mg/L indicates a moderate risk of cardiovascular disease while a level greater than 3 mg/L predicts a high risk.  The NIST team produced the certified reference material of pure CRP for the intended purpose of calibrating diagnostic tools and procedures that measure these low levels of CRP with greater accuracy, precision and traceability to SI units. 
Who
Ideally, all clinical diagnostic tests would be traceable to a 'higher-order' reference material to ensure the validity of the test results. Higher-order reference materials are those that have been reviewed and approved by the Joint Committee for Traceability in Laboratory Medicine (JCTLM) as meeting specific criteria.  Many common diagnostic tests currently lack suitable higher-order reference materials, and NIST plays an important role in filling this gap.   In-vitro diagnostic companies as well as research laboratories may use SRM® 2924 to develop calibrator solutions and control materials at low CRP concentrations.   The NIST researchers will also use SRM® 2924 as a 'higher-order' reference material to produce a follow-on SRM® for CRP in serum, that will directly feed into the measurement traceability chain for CRP in clinical laboratories everywhere.
How
SRM® 2924 was certified for concentration by amino acid analysis involving isotope dilution liquid chromatography-tandem mass spectrometry (ID-LC-MS/MS).  This advanced measurement method was optimized and rigorously tested against an existing higher concentration certified reference material for CRP from the National Metrology Institute of Japan (NMIJ).  Stability of the SRM was also carefully assessed through chromatographic and mass spectrometric techniques.  SRM 2924 is one of several protein SRMs being developed by NIST to meet the needs of the in-vitro diagnostic and research communities.  The SRM® is stored and shipped frozen and thawed at room temperature before use.