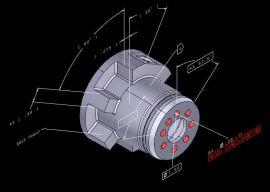 Overview
The Digital Thread for Smart Manufacturing project (2013-2018) enabled the repurposing, reuse, and traceability of information throughout the product lifecycle. The project research focused on standards and implementation needs to exchange information between each phases of the lifecycle -- particularly between engineering, manufacturing, and quality functions. The project has enabled an extended digital thread for smart manufacturing by addressing some research projects that are described to the left.  Research results for those projects and others are shown below.
Research on the Digital Thread continues in this project started in 2021.
Resources
STEP (ISO 10303)
Quality Information Framework (QIF)
Smart Manufacturing Systems (SMS) Test Bed
PMI (Product and Manufacturing Information), MBE (Model-based Engineering), CAD (Computer-aided Design), CAM (Computer-aided Manufacturing)
Digital Trust
Disclaimers
These results were developed at the National Institute of Standards and Technology by employees of the Federal Government in the course of their official duties.  Pursuant to Title 17 Section 105 of the United States Code the results are not subject to copyright protection and are in the public domain. NIST assumes no responsibility for the results for use by other parties and makes no guarantees, expressed or implied, about their quality, reliability, or any other characteristic.
The use of any software or hardware by the projects does not imply a recommendation or endorsement by NIST.
The use of the results in other software or hardware products does not imply a recommendation or endorsement by NIST of those products.

We would appreciate acknowledgement if any of the results are used, however, the use of the NIST logo is not allowed.