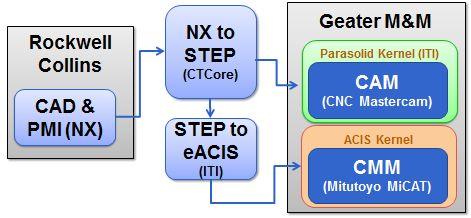 The Design to Manufacturing and Inspection project demonstrated the feasibility and development of CAD-to-CAM and CAD-to-CMM tools taking advantage of the 3D data interoperability groundwork previously established with CAD-to-CAD. The enhanced interoperability will significantly  
reduce and/or eliminate recreation of part design data,
reduced cycle time and cost,
reduce risk of downstream error introduction,
increased part yield, and
generate higher quality products.
The information flow (shown below) utilizes a CAD model with PMI that is translated from native CAD to STEP. The STEP file was then imported by the CAM system, which uses a Parasolid kernel. In addition, the STEP file was ported to an extended version of ACIS that was imported by the CMM system, which uses an ACIS kernel.
The project tasks included:
Proof-of-Concept demonstrator for transport of PMI downstream to manufacturing and First Article Inspections (FAI)
Identify Metrics for analyzing As-Is and To-Be processes
Collect Metrics results for As-Is and To-Be processes and determine Return On Investment (ROI)
Identify technology and data gaps and roadblocks in the To-Be process
The project was a collaborative effort by a team comprised of NIST, ITI TranscenData, Rockwell Collins, CT CoreTechnologie, Advanced Collaboration Consulting Resources LLC, CNC Software Inc., Mitutoyo America Corp., and Geater Machining and Manufacturing, Co.