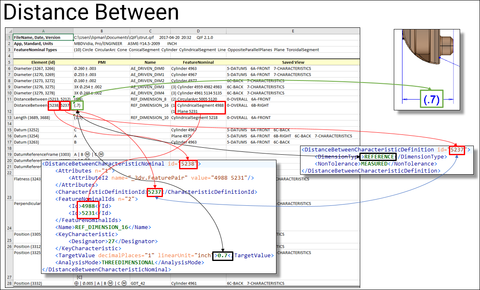 The QIF PMI Report (QPR) software generates a spreadsheet from a QIF file containing Product and Manufacturing Information (PMI).   "The Quality Information Framework (QIF) is a unified XML framework standard for computer-aided quality QIF systems, available free to all implementers.  QIF enables the capture, use, and re-use of metrology-related information throughout the Product Lifecycle Management (PLM) and Product Data Management (PDM) domains.  QIF was created by the Digital Metrology Standards Consortium." 
PMI consists of annotations and attributes that define product geometry and product specifications. PMI includes annotations to specify Geometric Dimensioning and Tolerancing (GD&T), as well as non-geometric data such as surface texture specifications, finish requirements, process notes, material specifications, and welding symbols. GD&T is a symbolic language used to communicate tolerances on manufactured parts.  PMI in QIF is defined by the QIF MBD (Model-based Definition) in ISO 23952.
The spreadsheet that QPR generates creates a visual presentation of the PMI from its semantic definition in the QIF file.  Measurements and QPids are also reported.  QPR does not consider any of the graphical PMI in a QIF file.