Bioscience
NIST provides measurement assurance for the biotechnology industry through the development of quantitative analytical measurement tools for nucleic acids, proteins, metabolites, and cell systems to aid industry in the deployment of innovative biotechnologies and advanced biomaterials.
The NIST Living Measurement Systems Foundry is enabling reliable, scalable, and safe engineering of cells that can sense and respond in controlled ways for applications, such as living therapeutics, environmental remediation, and structured materials fabrication. This automated facility combines high throughput measurements and machine learning to create rapid design-build-test-learn cycles for cellular engineering.
More info
.
What NIST Does
NIST standards and reference materials underpin advances in bioscience and biotechnology, contributing to human health and the U.S. economy.
NIST provides: 
Quantitative measurements
Reference materials for quality control
Data for benchmarking
Leadership and technical advice for U.S. and international standards development efforts
We have specialized expertise in and equipment for measuring biological processes and systems, along with experience in managing the large amounts of data these measurements produce. Our work benefits: 
Clinical medicine
The biopharmaceutical industry
Regulatory agencies
The DNA forensics community
The mass spectrometry community
The synthetic biology industry
Equipment manufacturers
For example:
WIPP: A Map App to Track Stem Cells
IT and bioscience experts at NIST worked together to create the Web Image Processing Pipeline (WIPP) to allow anyone with an auto-imaging tool to collect, view, and manage terabyte-sized images. The user experience is a lot like using a phone mapping app to view cell changes across time, space and function. Learn more about WIPP.
Say Hello to Our Little Friends: Toward Microbial BiotheraPOOtics and Diagnostics (blog post)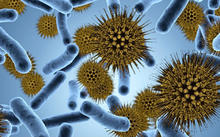 Credit: 
beawolf/fotolia.com
My fascination with the microbial world began when I was around 7 years old and my mother bought me a book called "
The Value of Believing in Yourself: The Story of Louis Pasteur
". Nearly four decades later, I still vividly remember the story about the little boy Joey and the "invisible enemy" that had invaded his body. So began my journey into this tiny realm. Read more of
Scott Jackson's blog post
.
News and Updates
Projects & Programs