The following resources may be used by media outlets when reporting on the SI redefinition. Videos should be credited to NIST. Photos should include the appropriate credit.
Scientists Vote on Metric Makeover
After decades of groundbreaking laboratory work, the world's scientific and technical community has redefined four of the seven base units for the International System of Units (SI). A vote to adopt the change took place on November 16, 2018, at Versailles, France. The affirmative vote means the kilogram (mass), kelvin (temperature), ampere (electric current) and mole (amount of substance) are now determined by fundamental constants of nature instead of by physical objects. This historic change is the largest single shift in international measurement since the Treaty of the Meter was signed in 1875. Scientists expect this change will spur technological innovation and lower the cost of many high-tech manufacturing processes.
Narrated by Ilona Dulaski
In English. Watch this video on YouTube.
Narrated by Rachel Kylian
In French.
Narrated by Dianela Urdaneta
In Spanish.
Narrated by Tania Stappard
In German.
The video above was produced by the National Institute of Standards and Technology.
Writer/Director: José Ricardo García · Producers: Leon Gerskovic, Robin Materese · Executive Producers: Kevin Kimball, Gail Porter · Scientific Adviser: Ben Stein · Animation by Fugu GFX (fugu-gfx.squarespace.com) · Director of Animation: Ariel Martian · Producer of Animation: Jodie Baltazar · Art Director/Illustrator/Animator: Ariel Martian · 3D Artist: Talon Nightshade · Animatics Editor: Jodie Baltazar · Illustrator: Songgu Kwon · Post Production Sound Services by Studio Unknown · Re-recording Mixer: Kevin Hill, CAS · Sound Designer/ Sound Effects Editor: Cazz Cerkez · Dialogue Editor: Kevin Hill · Audio Post Coordinator: Jaime Horrigan · Audio Post Office Manager/Voice Casting: Mandisa Henry · Original Music by: Cazz Cerkez
Additional Multimedia Materials
The watt balance lets researchers determine the mass of an object indirectly via two measuring modes that determine two different quantities: the strength of the magnetic field, and the current running through a coil of wire. Credit: Sean Kelley/NIST
In the latest "NIST in 90" video, physicist Darine Haddad uses a cup of coffee and sugar cubes to explain the significance of Planck's constant.
Watch this video on YouTube.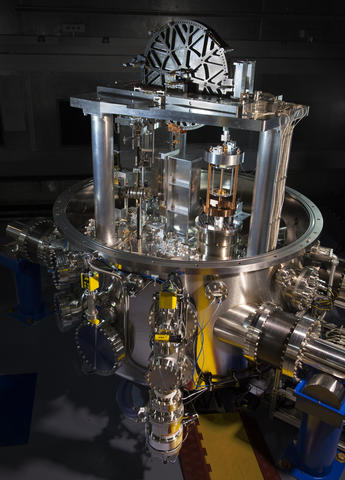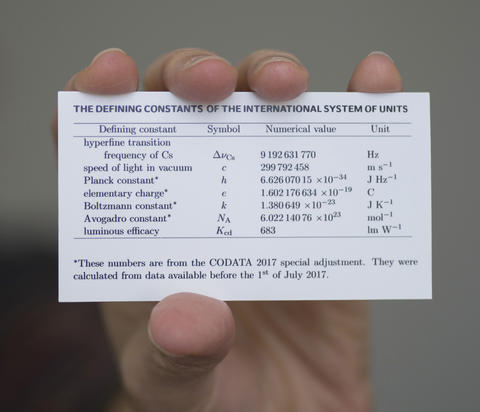 Looking to interview someone from NIST about the SI Redefinition? Contact Jennifer Huergo (301-975-6343) or Ben Stein (301-975-2763).