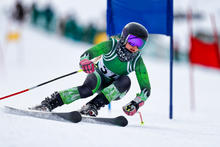 Biathlon
Biathlon consists of ten events in the Olympic program. Men and Women compete in a sprint, pursuit, individual and relay. In the individual events, the courses are 15 km for women and 20 km for men.
Sledding
Bobsleigh consists of three events in the Olympic program. Men and women compete in two-man/two-woman. Men also compete in four-man. The 4-man sled is required to be a maximum length of 3.8 m and maximum width of 0.67 m.
Skeleton is considered the world's first sliding sport. Olympic skeleton events consists of four runs timed electronically to 0.01 seconds. A skeleton sled has a maximum weight of 35 kg for women and 43 kg for men.
Curling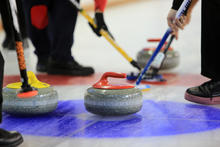 Curling is a competition between two teams with four players each. The game is played on ice, and the two teams take turns pushing a 19.1 kg stone towards a series of concentric circles. The object is to get the stone as close to the center of the circles as possible.
The curling rink is 42.07 m long and 4.28 m wide.
Ice Hockey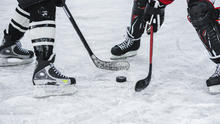 Ice Hockey has a men and women's teams in the Olympics. Women compete in an eight-team tournament whereas men compete in a 12-team tournament. The puck is made of vulcanized rubber or other material approved by the International Ice Hockey Federation (IIHF) and is primarily black in color. The puck is 2.54 cm thick and 7.62 cm in diameter and must weigh between 156 g and 170 g. It can move at speeds of more than 150 km/h. Sticks are made of wood or other material, such as plastic or aluminum and are prohibited from being curved more than 1.5 cm.
Luge
Luge has four parts in which athletes take four runs down the track. Each run counts. The four times are added, and the fastest total time determines the winner. Luge competitors down the icy track at speeds in the range of 140 km/h, without brakes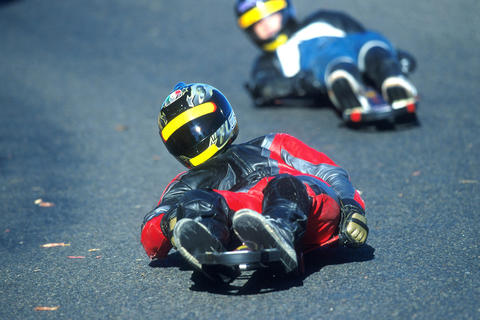 Skating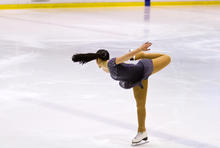 Figure Skating historically grew from necessity as a mode of transportation. There are four Olympic Figure Skating events: women's singles, men's singles, pairs, and ice dancing.
Short Track Speed Skating consists of eight events. Men and women compete in 500 m, 1000 m and 1500 m. There is a 5000 m relay for men, and a 3000 m relay for women. A modern figure skating blade has a very slight curve, equal to the radius of 180 cm - 220 cm.
Speed Skating at the Olympic Games consists of ten events: 500 m, 1000 m, 1500 m, 5000 m, for both women and men, 3000 m for women, 10,000 m for men, and Team pursuit for women and men. Men's speed skating blades are typically 42 cm to 46 cm long.
Skiing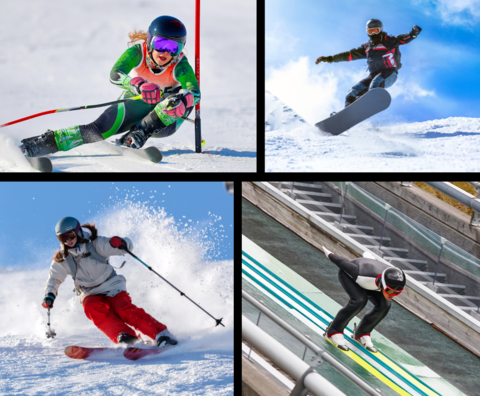 Alpine Skiing consists of ten events: five for women and five for men. The rules are the same for men and women, but the courses differ. In all cases, the time is measured to 0.01 seconds and ties are permitted.
Cross Country Skiing comprises twelve different skiing events. Women compete in the sprint, team sprint, 10 km individual start, 15 km pursuit, 30 km mass start and the 4x5 km relay. Men compete in the sprint, team sprint, 15 km individual start, 30 km pursuit, 50 km mass start and the 4 x 10 km relay.
Freestyle Skiing used to originally be a mix of alpine skiing and acrobatics. The moguls competition consists of a run down a heavily moguled course with two jumps. The Olympic aerial format consists of a two-jump qualification followed by a two-jump final.
Nordic Combined has its 5,000 year-old roots in Norway. It involves ski jumping, which requires physical strength and technical control, and cross-country skiing which demands endurance and strength. All three Nordic combined events consist of a ski jumping competition and a cross-country skiing race.
Ski Jumping has been part of the Olympic Winter Games since the first Games in Chamnix Mont-Blanc in 1924. There are three ski jumping events: Individual normal hill, Individual large hill, and Team Event.
Snowboarding was developed in United States in the 1960s. There are six snowboard events on the program of the Olympic Winter Games: men's halfpipe, ladies' halfpipe, men's parallel giant slalom and ladies' parallel giant slalom, men's snowboard cross and ladies' snowboard cross.