Presidents' Day is a national holiday celebrated on the third Monday in February and is as a day where all U.S. presidents are remembered and honored. Enjoy the holiday by exploring these measurement education resources.
In the Presidential Height Challenge students are encouraged to examine the height of ten U.S. presidents found in the data table. Graph each president's height (meters) in increasing order. Who was the tallest and the shortest? Where does your height fall in this arrangement? Check your solution using the graph provided.
Many Presidential Monuments have been established to remember presidential legacies and often include a monument, sculpture, or statue located on the site. Explore the these amazing memorial measurements.
Throughout our country's history, Presidential and Congressional decisions have influenced all aspects of American life, including how measurements are used. Enjoy the Presidential Measurement Timeline chronology beginning with the leadership of the our first president, George Washington.
Primary Sources in the Classroom: Thomas Jefferson's Proposed System of Weights and Measures (Library of Congress).

Students explore Jefferson's ideas about measurement by analyzing an excerpt from the original report.
Presidential Height Challenge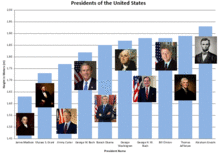 Presidential Height Graph (PDF)The tallest U.S. president was Abraham Lincoln at 1.93 m, while the shortest was James Madison at 1.63 m.
| President Name | Height (m) |
| --- | --- |
| Bush, George H. W. | 1.88 |
| Bush, George W. | 1.82 |
| Carter, Jimmy | 1.75 |
| Clinton, Bill | 1.88 |
| Grant, Ulysses S. | 1.73 |
| Jefferson, Thomas | 1.89 |
| Lincoln, Abraham | 1.93 |
| Madison, James | 1.63 |
| Obama, Barack | 1.85 |
| Washington, George | 1.87 |
Presidential Monuments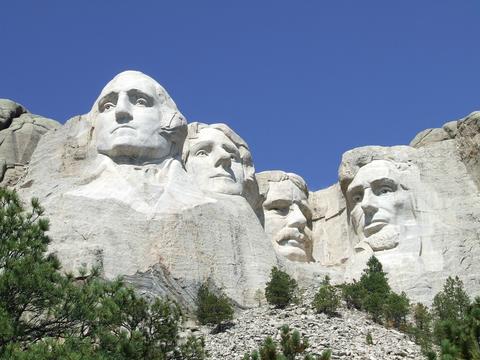 The Mount Rushmore National Memorial.
Photo Credit: National Park Service
Resources