Metric in Sports: Olympic Fast Facts
Diving off the 10 meter diving platform is similar to diving from the roof of a three-story building

Springboard divers bound from a board that is 50 centimeters in width, or about the size of four standard compact discs placed side by side.

The 10 meter diving platform is almost two meters wide, about the width of a full-sized pickup truck.

Waterpolo players pass and carry a ball in a pool that is 1.8 meters deep, or approximately the height of a standard upright refrigerator.
Competitors in the modern pentathlon must, among other events, run 4,000 meters around a track, which is longer than 43 football fields laid end to end.

The heaviest weapon used in fencing is the epee, which weighs 756 grams, or about as much as two empty ceramic coffee mugs.

Gymnastics floor exercises are performed on a mat measuring 12 meters by 12 meters, roughly twice the size of a boxing ring.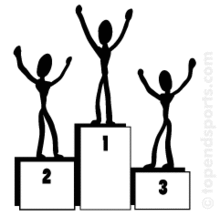 Gymnasts execute precise movements on a balance beam that is only 10 centimeters wide, about the width of a paperback novel.

The rings in men's gymnastics are place 250 centimeters off the floor, which is about the height of a standard ceiling.