Cool down this summer with a classic frozen dessert and celebrate National Ice Cream Month! Americans are not alone in enjoying a delicious serving of ice cream, consuming about 14 L per capita annually. Not surprisingly, the International Dairy Foods Association (IDFA) reports that about 9 percent of all the milk produced by U.S. dairy farmers is used to produce ice cream.
It's estimated that about 98 percent of American households purchase ice cream! No wonder that President Ronald Reagan designated July as National Ice Cream Month and the third Sunday of the month as National Ice Cream Day. This year, National Ice Cream Day will be Sunday, July 20, 2014.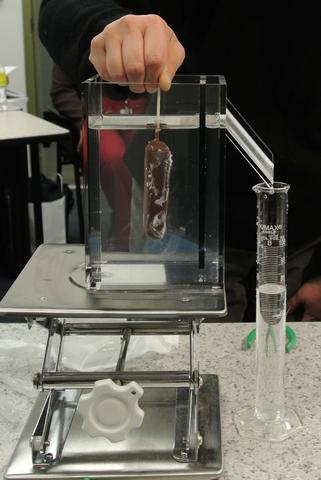 Consumers might ask "how is ice cream sold?" According to NIST HB 130: 2014 Uniform Regulation for the Method of Sale of Commodities, factory packaged ice cream and similar frozen products shall be offered for sale or sold by fluid volume (section 1.7.1). The model Method of Sale Regulation (section 1.7.2.) was amended in the 2012 edition to incorporate pelletized ice cream frozen dessert products, which must be sold by net weight.
Ice cream was one of the products tested in the new four-day NIST HB 133 Volumetric Checking the Net Contents of Packaged Goods hands-on training course, conducted in February 2014 by Kenneth Butcher on the NIST campus in Gaithersburg, MD. Ice cream novelties can be evaluated using a gravimetric displacement method (Figure 1).
In 2012, the International Ice Cream Association (IICA) surveyed their member companies and found that vanilla remains the most popular flavor among their consumers. What's your favorite? Enjoy a scoop of the good stuff and remember: "I scream, you scream, we all scream for ice cream!"
Fun Facts:
Ice cream is best stored at – 20 °C (or colder) and is easiest to scoop around – 10 °C. Consumers can prevent the formation of ice crystals by covering the ice cream container with a large plastic freezer bag when stored in the freezer.
According to the Guinness World Records, the largest:

Cup of ice cream weighed 4,021 kg and stood 1.96 m tall from the base of the cup to the highest point of the ice cream. The record was achieved by Baskin-Robbins at their headquarters in Canton, Massachusetts in September 2005.
Ice cream cone on record measured 2.81 m in height and was achieved in January 2011.

In 1782, George Washington described in his Mount Vernon ledger a cream machine for ice.
The Nutrition Facts Label on consumer products can promote healthy eating by telling you about the food you eat. According to the U.S. Department of Agriculture's National Nutrient Database, one 100 g serving of vanilla ice cream (data profile 19095) contains about 21 g sugar, 3.5 g protein, 128 mg calcium, and 207 kcal energy. 
Resources for Students, Teachers, and Consumers: