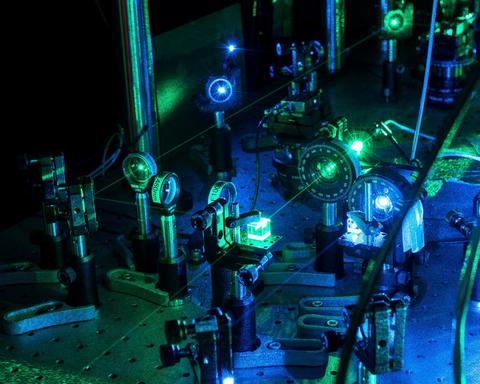 NIST scientists are at work devising and demonstrating next-generation technology for high-accuracy measurements of optical power ranging from extremely faint, single-photon sources to the irradiance of the Sun on orbiting satellites to the output of very high-energy lasers. 
Other programs are devoted to advanced designs for ultra-small portable frequency combs, photon-counting detectors, and sources of single photons that can be used for robust on-chip calibration of single photon properties or quantum information networks.
In one project, researchers are developing an entirely new system that accurately measures high-power laser output while the laser is in operation by detecting the pressure of the laser beam on a mirror. In another project, scientists are creating novel "microcomb" versions of NIST's pioneering frequency comb technology, expanding portability and range of applications. Another team is using optical switches and connections for advanced reference signal generators to meet the speed and bandwidth demands of next-generation communications. 
Meanwhile, one group of researchers is rolling out a major upgrade of a revolutionary radiometer, invented and patented at NIST, with a built-in check on its own accuracy. In another effort, scientists are creating a quantum dot-and-cavity source for streams of identical single photons that are quantum-accurate and bright enough for tomorrow's optical network circuits. 
Click on the boxes below to explore the technology in more detail.
Frequency Combs Quantum Light Sources Chip-Scale Bolometer and Related Technologies Photoconductive Switches Photonic Power Metrology