A blog post by Mark Tyra and Keith Martin
originally published July 09, 2019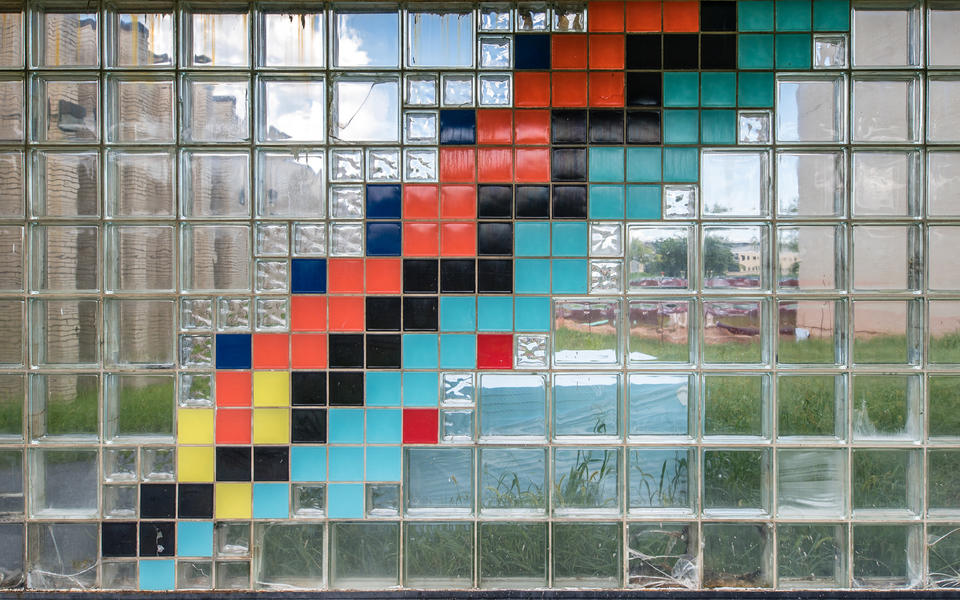 In what is currently a large construction zone in the center of the National Institute of Standards and Technology's Gaithersburg, Maryland, campus, the Radiation Physics building is undergoing an expansion and much-needed modernization. Unlike the Mid-Century Modern architecture that marks many of the buildings at NIST, the Radiation Physics building has an accompanying decorative wall featuring glass bricks arranged in a peculiar fashion. To most, this is simply a glass wall with diagonally arranged blocks tinted in faded oranges and blues. But to anyone who has studied the properties of the atomic nucleus, the pattern depicted on this wall is instantly recognizable as an homage to a scientific table that represents nuclear isotopes of some of the chemical elements of the periodic table and the nuclear stability of those isotopes:  the table of the nuclides.
The table of the nuclides, sometimes called the chart of the nuclides, is, in a way, the third dimension of the more commonly recognized periodic table of the elements. A nuclide is an atomic species characterized by the constitution of its nucleus (i.e., by its number of neutrons and protons). While the periodic table was arranged to group elements by increasing proton number and by chemical properties directly tied to how electrons are arranged around the nucleus, the table of the nuclides groups variants of each element by their nuclear properties. The table of the nuclides is a perfect decoration for a building named for the study of radioactive elements and their application to advanced technology.
Keep reading on NIST's Taking Measure blog...