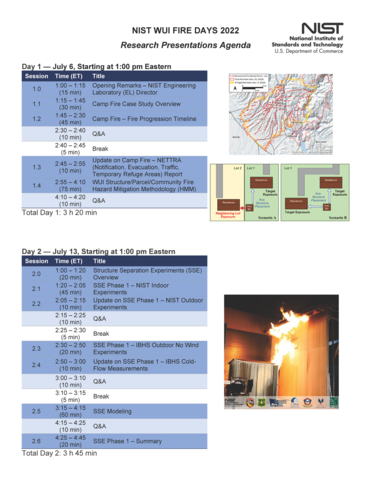 The NIST WUI Fire Group hosted their most recent WUI Fire Days through the month of July 2022. The event was virtual for the first time and occurred over four consecutive Wednesdays. The event provided NIST the opportunity to share current research with a large, diverse audience dedicated to protecting people and structures from WUI fires.
This year, in addition to work by NIST researchers, participants from the Insurance Institute for Business & Home Safety (IBHS) and the US Forest Service presented aspects of ongoing collaborative work on the Structure Separation Experiments (SSE).
The fourth session included presentations from the four active WUI fire-related research projects being conducted by academic partners funded through NIST's Fire Research Grants Program.
Thank you to this year's presenters, audience, and IT support staff for making WUI Fire Days a success. Content from the NIST WUI Fire Days can be found below.
July 6, 2022 – Camp Fire and Hazard Mitigation Methodology
1.0  Opening Remarks
1.1  Camp Fire Case Study
1.2  Camp Fire Case Study (included in 1.1)
1.3  Update on Camp Fire Notification, Evacuation, Traffic, Temporary Refuge Area (NETTRA) Report
1.4  WUI Structure/Parcel/Community Fire Hazard Mitigation Methodology (HMM)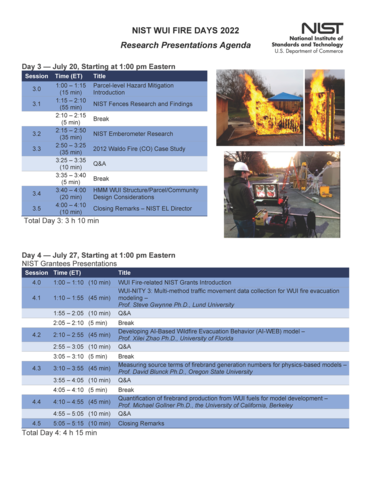 July 13, 2022 – Structure Separation Experiments (SSE) Phase 1
2.0  SSE Phase 1 Overview
2.1  NIST Indoor Experiments
2.2  Update on NIST Outdoor Experiments (included in 2.1)
2.3  IBHS Outdoor No Wind Experiments
2.4  Update on IBHS Cold-Flow Measurements (included in 2.3)
2.5  SSE Modeling
        2.5.1  Experimental Design (Ambient Wind Effects)
        2.5.2  Model Validation (Wind and Heat Flux)
        2.5.3  Experimental Design (Eave Ignition)
        2.5.4  Structure Separation Distance Scoping
2.6  SSE Phase 1 Summary
July 20, 2022 – NIST WUI Fire Research
3.0  Parcel-level Hazard Mitigation Introduction
3.1  NIST Fences Research and Findings
3.2  NIST Emberometer Research
3.3  2012 Waldo Canyon Fire (CO) Case Study
3.4  HMM WUI Structure/Parcel/Community Design Considerations
3.5  Closing Remarks
July 27, 2022 – WUI fire-related Fire Research Grants
4.0  Introduction
Evacuation
4.1  WUI-NITY 3: Multi-method traffic movement data collection for WUI fire evacuation modeling
      (Prof. Steve Gwynne, PhD. Lund University)
4.2  Developing AI-Based Wildfire Evacuation Behavior (AI-WEB) model
      (Prof. Xilei Zhao, PhD. University of Florida)
Firebrand/Ember Generation
4.3  Measuring source terms of firebrand generation numbers for physics-based models
      (Prof. David Blunck, PhD. Oregon State University)
4.4  Quantification of firebrand production from WUI fuels for model development
      (Prof. Michael Gollner, PhD and Hadi Hajilou, PhD. University of California, Berkeley)
All presentations (zip file)