Five-Part Leadership Blog Series
In this five-part blog series on the 2018 Baldrige Award recipients' leadership presentations at the 31st Annual Quest for Excellence® Conference (April 7–10, 2019), senior leaders of the five newest national role models share best practices and stories of how they achieved excellence.
Essence of a "Winning Organization"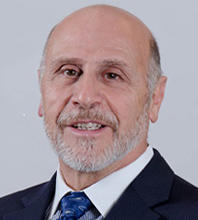 Speaking at the Baldrige Program's  Quest for Excellence Conference® recently,
Integrated Project Management Company, Inc.
(IPM) President and CEO Rich Panico defined core leadership responsibilities as follows:
"I believe that the essence of leadership really is all about inspiring a values-based vision, a strategy that establishes direction and builds confidence and excitement in the future, investing in execution—a critical point because many organizations put together great strategies but fall short of really investing in [their] execution—and driving continuous improvement. We all have to evolve or die," said Panico.
"These responsibilities are essential to establishing and sustaining what I believe is a values-based, high-performing organization—a winning organization," he added.
"The Baldrige framework (and specifically, the 'Leadership' category) emphasizes so much the importance of these directly or indirectly."
Small Business Aiming for Long-Term Success
"Our business is really all about helping other businesses succeed and thrive," Panico said in describing what IPM does. "We solve complex business issues and transform strategies to results," he said, adding that "brilliant strategies without execution fall short and have little value."
 The Illinois-based consulting business has served over 400 business clients—ranging from Fortune 100 companies to start-ups—since Panico founded it 30 years ago.
"We're proud of the fact that we just don't lose customers," said Panico. IPM boasts a repeat business rate of 90 percent.
With seven offices in the United States and just under 200 employees, IPM celebrated its 30th anniversary last year—the same year it earned the prestigious Baldrige Award. The company's strategy for sustainable growth is aligned with its long-term goal of continuing to thrive until and beyond its centennial anniversary. "The goal is to continue to grow, but to grow right," said Panico. He also noted that IPM's goal of celebrating its 100th anniversary has been a guiding principle that helps keep the company focused on what's important for both the short and long terms. A key part of IPM's vision is to be the most prestigious consulting firm in North America.
Values-Based Culture, with People as "Most Important Asset"
"We built our brand on honesty and integrity and ethical conduct—something that is critically important to us, particularly because our goal is to achieve that 100th anniversary and beyond," said Panico.
He summarized IPM's answer to the Baldrige Criteria question How do you create an environment for success? this way: "Create a values-based culture and hire outstanding people whose values align with yours."
Panico described IPM's focus on retaining its values-based organizational culture as an "obsession" and explained why. "There's no doubt that culture is truly our competitive advantage," he said. "Not only have we been able to retain our culture; we've been able to strengthen it over the past 30 years. … We believe that organic growth is the way to do it."
Supporting the values-based culture, IPM focuses on its workforce with great care, exemplified by the CEO's practice of interviewing every job candidate. "If you've read our mission and beliefs," he pointed out, "[we state] that our employees are our most important asset, so why wouldn't a CEO invest time in the most important asset of the business?" Panico added that IPM aims to be an employer of choice."
IPM's Baldrige Journey
Why did IPM begin using the Baldrige Excellence Framework and engage in a Baldrige journey of improvement? According to Panico, continuous improvement has "always been part of the heart and soul of this company." Despite IPM's outstanding reputation and success "using every business metric that you can imagine," he explained, "We decided we wanted to take our game to a new and higher level. We determined that we really needed to get an outside perspective and something that would really help us understand what we were missing, if we were missing anything at all."
More important, he said, when IPM identified its imperatives—growth, diversification, and talent engagement—the leadership believed that the Baldrige Excellence Framework would help the company "allow us to focus on these with a greater obsession and with precision."
Starting with its 2014-2015 business plan, IPM began pursuing a Baldrige journey "with a vengeance," said Panico. He and another IPM leader attended Baldrige examiner training, and IPM submitted an application in 2015 to its state-level Baldrige-based award program, earning the Illinois Performance Excellence (ILPEx) Silver Award for progress toward excellence that year. In 2017, after working on opportunities for improvement described in the ILPEx feedback report that IPM received in 2015, the company submitted a new ILPEx award application, this time receiving the ILPEx top-tier (Gold) award that made the company eligible to apply for the national Baldrige Award last year.
Essential Leadership System
Panico credited IPM's "Essential Leadership" system (depicted as a pyramid above), with accelerating its journey to excellence. In reviewing the components of this leadership system, starting with the fundamental values at the base of the pyramid, Panico said that IPM made the decision as part of its Baldrige journey to pull out its core values and highlight them, though these values had been incorporated in the company's mission and vision for more than two decades. He also explained the positioning of action plans (part of the annual business plan) at the top of the pyramid because these "actions really brought IPM's journey to life."
"Baldrige processes clearly impacted our ability to achieve better strategies," Panico said. "We're a company that helps create and execute strategies for others. Yet this process helped us to take our own strategy to a new and impactful level."
View more processes and results of Integrated Project Management Company, Inc.
Five-Part Leadership Blog Series: Upcoming Blogs
Donor Alliance (Nonprofit)
Memorial Hospital and Health Care Center (Health Care)
Alamo Colleges District (Education)
Tri County Tech (Education)
---
A Systems Approach to Improving Your Organization's Performance

Baldrige Excellence Framework
The Baldrige Excellence Framework has empowered organizations to accomplish their missions, improve results, and become more competitive. It includes the Criteria for Performance Excellence, core values and concepts, and guidelines for evaluating your processes and results.
Available versions: Business/Nonprofit, Education, and Health Care
---