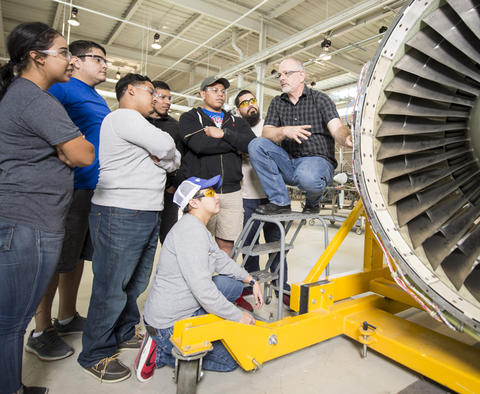 Washington, D.C.—The U.S. Department of Commerce announced today that the 2018 Malcolm Baldrige National Quality Award will be given to two educational institutions, an organ donor group, a hospital and a project management firm. A presidential-level honor, the award recognizes exemplary U.S. organizations and businesses that demonstrate an unceasing drive for radical innovation, thoughtful leadership, and administrative improvement.
"These awardees are inspiring in so many ways," said Under Secretary of Commerce for Standards and Technology and National Institute of Standards and Technology (NIST) Director Walter G. Copan. "Each honoree strengthens our economy through its organizational excellence and positive impacts for its customers, students, patients and employees. They exemplify the American spirit in action and are role models for success in business and commerce."  
The 2018 honorees are as follows:
NIST manages the Baldrige Award in cooperation with the private sector. An independent panel of judges reviewed the evaluations performed by the board of examiners and recommended this year's Baldrige Award recipients from a field of 27 finalist applicants, each of whom had prequalified by winning a Baldrige-based performance excellence award at the state or regional level. 
"We are very pleased to honor these five outstanding organizations with this presidential award," said Copan. "Using the proven Baldrige framework, each organization charts its own course to achieve verified performance excellence, and as a result we all benefit through economic growth and U.S. leadership."
The 2018 Baldrige Awards will be presented at a ceremony on April 7, 2019, during the Baldrige Program's 31st annual Quest for Excellence® conference, which will be held in National Harbor, Maryland.
The expert Baldrige judges evaluate organizations in seven areas defined by the Baldrige Excellence Framework: leadership; strategy; customers; measurement, analysis and knowledge management; workforce; operations; and results. An organization may compete for the award in one of six categories: manufacturing, service, small business, health care, education and nonprofit (including government agencies).
Since 1987, the Baldrige Award has been the highest recognition for performance excellence in the nation. There are now more than 30 independent Baldrige-based state, regional, and sector award programs covering nearly all 50 states. Internationally, there are nearly 80 programs based in whole, or in part, on the Baldrige Program. In addition, many organizations use the Baldrige framework as a leadership and management guide to drive improvement and innovation strategies. The Baldrige framework is reviewed and updated regularly to reflect best practices in organizational leadership and performance across key organizational categories that drive the U.S. economy and enhance our quality of life.
Over the years, millions of copies of the Baldrige Criteria for Performance Excellence, the core of the Baldrige framework, have been distributed or downloaded. This widespread acceptance and use both nationally and globally have dramatically impacted all types of organizations.
Below is a sample of the achievements of the 2018 Baldrige Award winners.
The Alamo Colleges District (ACD) 
ACD is the largest institution of higher learning in South Texas, serving over 100,000 students enrolled in for-credit, continuing education and workforce courses every year. Students can earn associate degrees and can also transfer to four-year universities. ACD holds a rare AAA bond rating, based on the strength of its financial policies for managing debt and evolving sources of revenue. Simultaneously, ACD students' four-year graduation rate has increased 150 percent since 2009, and students have given the institution's advisor program a 94 percent effectiveness rating. 
Donor Alliance (DA)
DA's mission is to save lives through organ and tissue donation and transplantation. Covering the third largest physical area of any organ donation and transplant support network in the nation, DA has increased its organ donations steadily over the past five years. DA's results, including some of the nation's highest donor designation rates, directly translate to more lives saved and healed through transplantation. Donor families, as well as transplant center and tissue processor customers, gave DA a 100 percent satisfaction rating. At the same time, DA has increased its revenues and realized organ donor cost savings between 63 and 73 percent.  
Integrated Project Management Company, Inc. (IPM)
IPM is a privately held business consulting company, providing leadership to transform strategies and solutions into sustainable results. While growing its revenue more than 60 percent since 2013, IPM achieved a 99 percent customer satisfaction rating from 2015 to 2017, and 94 percent of its employees rated it a "great place to work." 
Memorial Hospital and Health Care Center (MHHCC)
MHHCC provides inpatient and outpatient care through an acute care community hospital and 32 outpatient primary and specialty care clinics and medical practices, providing medical care for 6,600 inpatients and 254,000 outpatients through 29,000 emergency department visits annually. MHHCC has received an "A" in hospital safety since 2016. MHHCC has also received a Centers for Medicare and Medicaid Services (CMS) five-star rating for overall quality of inpatient care since the ratings were released. 
Tri County Tech (TCT)
One of 29 public technology centers in the Oklahoma Career and Technical Education System, TCT serves the residents of three counties and has a vision of inspiring success through life-changing learning experiences. With a goal that no student should be denied an education due to inability to pay, TCT provides scholarships and funding for student expenses such as medication, gasoline, clothing and food. TCT has sustained top 25 percent national rankings for student completion/retention and placement for eight fiscal years. The institution also increased graduate wages to well above the national average while growing its own revenues 16 percent since 2009—without federal funding and despite a sizable reduction in state funding. 
Best-Practice Awards
The Baldrige judges also may recognize best practices in one or more of the Baldrige Criteria categories by organizations that are candidates for the award but are not selected as winners. This year, the judges have chosen two organizations for this honor (listed with the categories for which they are acknowledged):
Howard Community College in Columbia, Maryland, is recognized for its role-model practices in leadership.
Mary Greeley Medical Center in Ames, Iowa, is recognized for its role-model practices related to its patients and other customers.
The Baldrige Program raises awareness about the importance of performance excellence in driving the U.S. and global economies; provides organizational assessments, training, tools and criteria; educates leaders in businesses, schools, health care organizations and government and nonprofit organizations; shares the best practices of national role models; and recognizes those role models with the Baldrige Award. The Baldrige Program is a public-private partnership managed by NIST and funded in part through user fees and support from the Baldrige Foundation. 
The Baldrige Award was established by Congress in 1987 and is not given for specific products or services. Since the first group was recognized in 1988, 123 awards have been presented to 115 organizations (including eight repeat winners).
The 2019 Baldrige Award Application is now available.
###