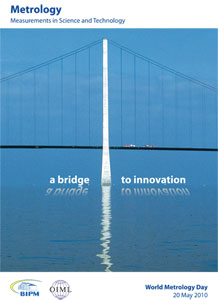 Celebration of World Metrology Day
Date: May 20, 2010
Time: 1:30 p.m. to 4:00 p.m., EST
Location: Administration Building, Green Auditorium
NIST will hold its fourth annual celebration of World Metrology Day on Thursday, May 20, 2010. The Metre Convention was signed on 20 May 1875, a date now celebrated as World Metrology Day. The Convention created the International Bureau of Weights and Measures (BIPM) and set the framework for global collaboration in the science of measurement and in its industrial, commercial and societal application. The original aim of the Metre Convention – the worldwide uniformity of measurement – remains as important today, in 2010, as it was in 1875.
Join NIST in celebrating World Metrology Day -- a celebration of our core foundation and purpose! The theme for 2010 is Measurements in Science and Technology; Metrology – a Bridge to Innovation. NIST research and measurements provide a significant foundation for measurements in support of our global economy. Speakers will include: Dr. Katharine Gebbie – Introduction; Dr. David Wollman – Metrology and Innovation in Smart Grid; Dr. Cameron Miller – How Better Metrology will Support Innovation in the Lighting Industry; and Dr. Curt Richter – Metrology to Support Innovation in Nanoelectronics. Poster sessions from the NIST laboratories will be held after the speaker session in the Hall of States, along with refreshments.
Non-NIST visitors contact Sandra Auchmoody by May 15, 2010 for Visitor access (301.975.4500, sandra.auchmoody [at] nist.gov (sandy[dot]auchmoody[at]nist[dot]gov)).
By selecting these links, you will be leaving NIST webspace. We have provided these links to other web sites because they may have information that would be of interest to you. No inferences should be drawn on account of other sites being referenced, or not, from this page. There may be other web sites that are more appropriate for your purpose. NIST does not necessarily endorse the views expressed, or concur with the facts presented on these sites. Further, NIST does not endorse any commercial products that may be mentioned on these sites. Please address comments about this page to
TheSI

[at]

nist.gov

(TheSI[at]nist[dot]gov)