2011 Nobel Prize in Chemistry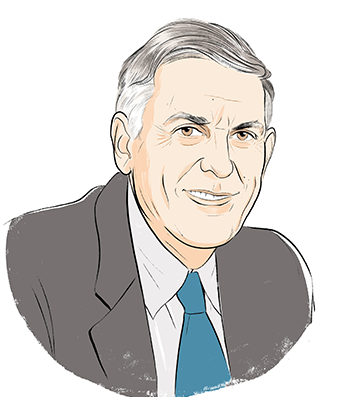 Dan Shechtman received the 2011 Nobel Prize in Chemistry for discovering crystal structures previously unknown to science: quasicrystals.
Quasicrystals have transformed scientists' understanding of how matter can arrange itself and opened scientists' minds to a whole new class of materials that can exist. At NIST, Shechtman worked on identifying new materials that could be useful to industry, as part of NIST's mission under the U.S. Department of Commerce. His study, sponsored by the Defense Advanced Research Projects Agency, was designed to develop aluminum-transition metal alloys for aerospace applications. In the process, he made a discovery that revolutionized scientific thinking. 
Though Shechtman worked for nearly his entire career at the Technion – Israel Institute of Technology in Haifa, Israel, he made his Nobel-winning discovery in 1982 while on a two-year sabbatical at NIST. He was using electron microscopes to study mixtures of aluminum and manganese that had rapidly solidified from a liquid. In one of his studies, Shechtman saw something that contradicted the basic theory of crystallography. Scientists at the time thought that all crystals had a regularly repeating "periodic" structure. Shechtman observed a crystal that had "fivefold rotational symmetry," meaning that if you were to rotate its structure a fifth of the way around an axis, it would look the same. According to basic crystallography, only one-, two-, three-, four- and sixfold symmetries were possible for a periodic structure. Fivefold periodic structures were not supposed to exist!
Shechtman initially had trouble convincing his colleagues of what he had seen, and it took more than two years until a paper describing his results was published. Some prominent scientists believed Shechtman's material must have had a conventional explanation, but Shechtman fought for his ideas. As more results came out during the following years, it became clear that "quasicrystals" were not only possible, but relatively easy to produce; they were not just laboratory concoctions, but they could even be found in nature.
In 2011, the Nobel committee recognized Shechtman for discovering quasicrystals and for standing by his interpretation even in the face of challenges.
These pages consider Dan Shechtman's 2011 Nobel Prize in more depth by exploring the following questions:
Who is Dan Shechtman, and how did he get involved with the science that led to the Nobel Prize?
Why was Shechtman studying the quasiperiodic material? 
How did the discovery unfold? Was there a "eureka" moment?
What has been the legacy of the Nobel Prize-winning effort?
"He's a good microscopist; he pays attention. [He] didn't miss that there was something not usual and deserved attention; [he] didn't brush it off. He's very accurate and very meticulous."
– Leonid Bendersky, Metallurgist, NIST Materials Science and Engineering Division