Explore the demand for cybersecurity practitioners and the wide range of career options and pathways to enter the field.
Discovering Cybersecurity Careers
Most people, young and old, don't understand what a cybersecurity practitioner does or the multiple career pathways to get into the cybersecurity field. Cybersecurity Career Week inspires and promotes awareness and exploration of cybersecurity careers.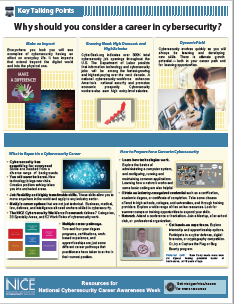 Why consider a career in cybersecurity? 
Cybersecurity has something for everyone.
There is a high need for skilled cybersecurity professionals.
Cybersecurity workers are part of a dynamic industry. 
Cybersecurity has practically unlimited growth.
You will never be bored in the field of cybersecurity.
You get to solve problems and develop unique solutions.
Cybersecurity allows you to earn a great salary.
Careers in cybersecurity allow you to enjoy job flexibility​​​.
Cybersecurity professionals make a difference in the world and make a real impact. 
The work of cybersecurity professionals is more than the stereotypical picture most people have of a computer science major or a hacker.
Work Roles
Learn more about the different types of work roles that constitute cybersecurity work by exploring the National Initiative for Cybersecurity Education (NICE) Cybersecurity Workforce Framework, NIST Special Publication 800-181, a national focused resource that categorizes and describes cybersecurity work. The NICE Framework establishes a taxonomy and common lexicon that describes cybersecurity work and workers irrespective of where or for whom the work is performed.
Want to learn more about cybersecurity workforce demand or career pathways to the work roles identified in the NICE Framework? Explore CyberSeek which includes an interactive jobs heat map and career pathways aligned to the NICE Framework to answer questions such as:
What education levels do employers require for cybersecurity workers?
What credentials or knowledge, skills, and abilities do I need to enter a career in cybersecurity?
How large is the cybersecurity workforce in my region? How does that compare to other locations?
How much does a cybersecurity worker make in my region?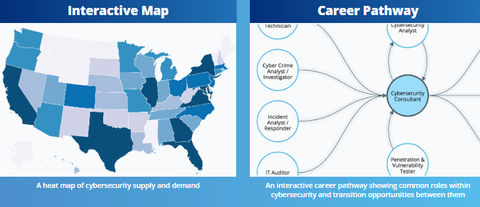 The NICE Framework: 
Is a fundamental reference for describing cybersecurity work.
Describes work in the form of Work Roles.
Learn more at the NICE Framework Resource Center. 
 
career pathways
The pathways to – and through – a career in cybersecurity are truly innumerable. There is a wide array of starting points, countless combinations of education, training, and learning experiences, and a broad range of job opportunities.
Career Briefs, Resources, and Tools
These cybersecurity career resources provide job descriptions, salary information, employment outlooks, educational requirements, overviews of sample cybersecurity opportunities, and more.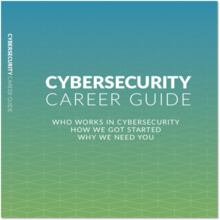 Palo Alto Networks Cybersecurity Career Guide: Who Works in Cybersecurity, How We Got Started, and Why We Need You shares amazing stories about how some of the best practitioners in the industry got started.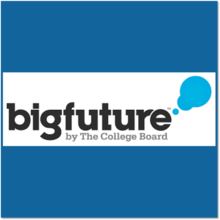 College Board BigFuture allows you to browse majors and career profiles, and it provides career guidance. For example, explore a career in network security.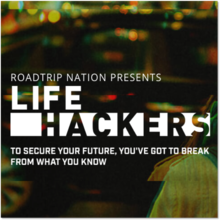 RoadTrip Nation offers interviews from leaders in the field, perspectives on the possibilities of cybersecurity from three aspiring cybersecurity workers, and much more. 
CareerOneStop provides career information, resources, and advice in addition to a career profile and an occupation profile with details on more than 950 careers. Search for cybersecurity job roles, such as Information Security Analysts.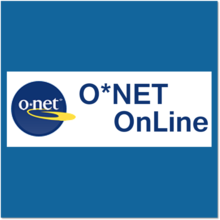 O*NET OnLine has detailed descriptions for use by job seekers, HR professionals, students, and researchers. Search by Keyword or O*NET-SOC Code. Included is a list of technologies frequently seen in job postings and a MyNextMove for veterans.
 ClearanceJobs Cybersecurity Resource Center offers career advice and job search tips.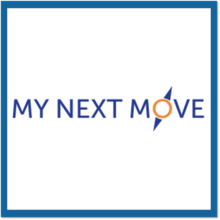 My Next Move is an O*NET interactive tool for job seekers and students. The site has tasks, skills, salary information, and more for over 900 different careers.
Cyberspace IT/Cybersecurity Workforce Tool is based on the qualification matrices found on Navy COOL, which were developed to ensure that Sailors working in Cyber IT and Cybersecurity meet defined qualification requirements to serve in those roles.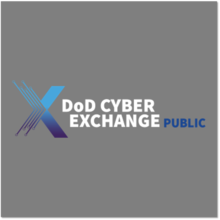 DoD Cyber Workforce Framework establishes the DoD's authoritative lexicon based on the work an individual is performing, not their position titles, occupational series, or designator.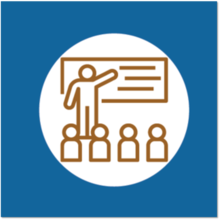 NICE Education and Training Provider Resources include materials aimed at helping instructors, educators, administrators, and training providers in building materials, sharing information with students and learners, and more.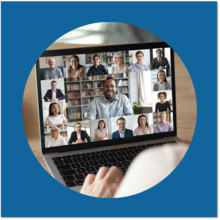 NICE Free and Low Cost Learning Content lists free and low-cost online educational content on topics such as information technology and cybersecurity.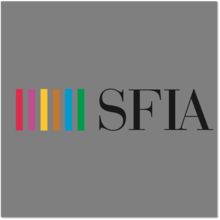 Mapping SFIA 8 skills to NICE work roles provides an additional dimension to the comprehensive list of NICE Work roles. This will also help SFIA users adopt NICE work roles.

CyberCareers.gov is a guide to the Federal cybersecurity workforce for job seekers, hiring managers, and more. Managed by OPM.

USA Jobs is the The Federal Government's official employment site. 

Explore Cybersecurity Careers is LinkedIn's exploring cybersecurity careers page.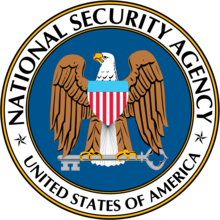 Explore the National Security Agency job portal. The National Security Agency employs a wide variety of cyber professionals to help protect and defend U.S. government IT systems, and to help exploit the intelligence of adversaries.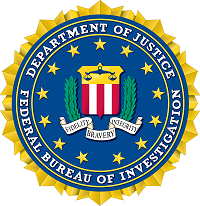 Explore the Federal Bureau of Investigation job portal. The agency's technology careers are the backbone of many key functions relating to security, system capabilities, and the investigative work at the FBI. 
Videos and interviews
Resources depicting a day in the life of cybersecurity practitioners in a range of work roles:
Additional videos:
NICE Framework in Focus Interviews - listen to these profiles of a cybersecurity practitioners to illustrate application of the NICE Framework categories, specialty areas, and work roles.
Do you have videos to share? Contact us at nice [at] nist.gov.
Posters and Infographics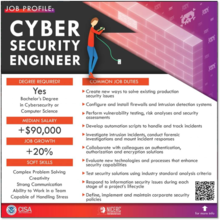 CISA and CYBER.org Career Profiles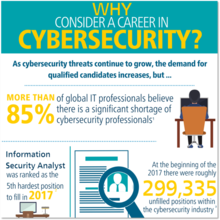 The Center for Internet Security explains why starting a career in cybersecurity is a good idea for students or individuals looking for a career change.
Workforce Demand Data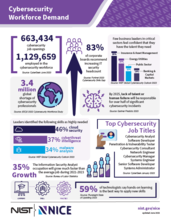 NICE Workforce Demand One Pager.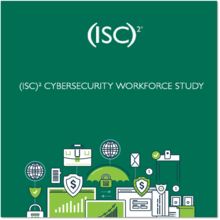 Industries at a Glance, with industries arranged by North American Industry Classification System (NAICS) Code.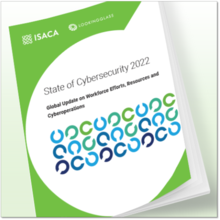 ISACA State of Cybersecurity 2022 report and infographic.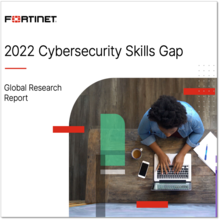 Fortinet Cybersecurity Skills Gap Global Research Report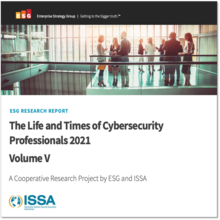 ISSA Life and Times of Cybersecurity Professionals Report
See additional resources in our toolkit of resources.