Social Media Plan | Work, School, and Community | Home Family Fun 
Help inspire, engage, and inform the public about the demand, opportunities, and multiple career options available within the area of cybersecurity. 
Do Your Part
Everyone can make a difference during Cybersecurity Career Week and throughout the year. Whether you have a minute, an hour, or a day – whether during this week or all year long – there are many ways to promote careers in cybersecurity. An activity can be as simple as hosting a coffee for a few colleagues or as complex as organizing a company-wide competition. The main ingredient is bringing people together to celebrate and have fun.
Check out ways you can participate and support awareness about cybersecurity careers on social media, at home, at work or school and in the community.
Social Media Plan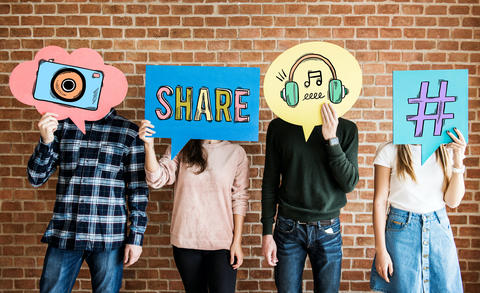 Cybersecurity Career Week is led by the National Initiative for Cybersecurity Education at the National Institute of Standards and Technology. Learn more about how to follow us on social media to receive the latest cybersecurity education, training and workforce development news and resources.
Post what you like about your cybersecurity job or how you are celebrating cybersecurity career awareness week.

Use the hashtags #mycyberjob, #cybercareerweek, and #ChooseCyber on Facebook, Twitter, Instagram, and other social media sites.
Share a short video or story on social media about what you love most about your cybersecurity career. Or, for fun, ask others to answer the question, "what does a cybersecurity worker do?"
Share a photo on social media. Be sure to tag us: #cybercareerweek , #mycyberjob and @NISTCyber. Ideas include:

Cybersecurity projects you work on or admire

You and your project or office team.

Cybersecurity related celebrations (competitions, completion of certifications, or conference presentation)

Take some selfies!

Blog

about Cybersecurity Career Week. Share your experience about your cybersecurity work role. Share your story about how you entered the cybersecurity field. Share resources or activities you have shared with students. Choose a topic that appeals to you or highlight one of the Cybersecurity Career Week key messages. 

Work with your organization, school, society, or MeetUp communications team to post a message from leadership about cybersecurity worker's vital role in innovating and providing solutions to cybersecurity challenges, the value of all cybersecurity work roles to your organization, or engaging students in the cybersecurity workforce pipeline.
Work, School, and Community
Join us in promoting awareness & exploration of cybersecurity careers by hosting an event or participating in an event near you! Share your event or commitment. It's free and simple to sign up.
For Cybersecurity Career Week, NICE is encouraging a

nationwide call to

cybersecurity workers to share their story!

Cybersecurity workers can visit a classroom (can do virtually as well) and introduce K-12 students to careers in cybersecurity. To celebrate this important campaign, we want to give every child, everywhere, a cybersecurity career awareness experience. You can help!
Post the Cybersecurity Career Week banner on your company or school's external or internal website. You can link to www.nist.gov/nice/ccw

 to provide more

information.

Send an email

 

to colleagues, employees, customers, your school, or community about the campaign and share your or your organization's commitment. You can use information from the

toolkit

in the email.

Include information about the campaign in your community newsletter. Highlight #mycyberjob, #cybercareerweek, and #ChooseCyber, and some of the key messages. Explore the resources in the Cybersecurity Career Week Campaign Toolkit

 for ideas and resources.

Host a poster or video contest for students in which they create informative resources about different work roles found in cybersecurity and different pathways that lead to a career in cybersecurity. Display the winning entries at school or share them with your community or social media.

Work with your leadership to issue an official proclamation

 

to show your organization's support of Cybersecurity Career Week and its commitment to inspire and promote awareness and exploration of cybersecurity careers.

Host a local or virtual event or training for your organization, school, or community to discuss awareness about cybersecurity careers. Use resources available in the Toolkit 

to prepare for your presentation.

Share information and data on cybersecurity workforce demand and career pathways to the work roles identified in the NICE Framework.

 Demonstrate the 

CyberSeek

 tool which includes an interactive jobs heat map and career pathways aligned to the NICE Framework.

Print and share Cybersecurity Career Week resources. 

There are numerous nonproprietary resources available to download and share.

Distribute the sample press release 

included in the toolkit. You can publish it as traditional media alerts and releases or publish it on your website's blog to share with your online audiences.

Engage employees or students in the online scavenger hunt or games

.

Download and play one of the board or card

games

 

to learn more about cybersecurity tasks associated with different work roles.

Acknowledge your hard-working cybersecurity co-workers

.

Recognize individuals by planning an event, small or large, to honor their achievements. 

You can host a morning coffee or tea, afternoon break, lunch, or dinner. Ask your employer or professional association to consider hosting an organization-wide celebration.

Host an office-wide cybersecurity related competition.

Bring your mini/future-cybersecurity worker to workday (can even do virtually).

Encourage your cybersecurity employees or colleagues to sign up for trainings or compete in a competition.

Host a career talk for employees or co-workers, plan a career fair, or host an open house.
Invite a speaker to present to your classroom or organization.
Host a training or professional development activity for educators.
Examine cybersecurity's impact on society through resources available in your neighborhood.

Tell a friend! Share information about Cybersecurity Career Week and what you have planned with co-workers, colleagues, friends, and family.
Home Family Fun
Join one of the week's special events

 

to learn more about online behavior and cybersecurity awareness and hear from cybersecurity professionals about their cybersecurity career stories.

Participate in a Capture the Flag (CtF) competition.

Hold a family "career talk" to discuss careers in cybersecurity, different pathways, and different opportunities. Visit Cyberseek.org to explore what cybersecurity job openings and job titles are in highest demand in your state.
Have the family play a card game, board game, or online game. 

Watch a cybersecurity themed movie and discuss "what's realistic" afterwards

Explore scholarship opportunities

 

for students interested in pursuing education in cybersecurity.
Examine cybersecurity's impact on society through resources available in your neighborhood.