Examine cybersecurity's impact on society through resources available in your neighborhood
Cybersecurity touches many areas of interest. The work of a cybersecurity professional is more than the stereotypical picture most people have of a computer science major or a hacker. Cybersecurity has something for everyone! Whatever your interests and skills, there's an exciting job for you.
There is a high demand for skilled cybersecurity workers. Cybersecurity practitioners are part of a dynamic industry with practically unlimited growth. Most people, young and old, do not understand what a person in the cybersecurity field does or the many possible pathways to get into the growing dynamic area. When you think of a cybersecurity job what do you think of? How does a cybersecurity professional make a difference in the world? What's the coolest cybersecurity job you can think of?
There are many places where you can see state-of-the-art technology; all of which are touched by cybersecurity. Whether it's a local museum or business security operations center (SOC), data center or research lab, all are great options to learn how cybersecurity impacts society.
For K12 Classroom Teacher, School Club, and After School or Informal Programs 
Local Museums
Local museums are a great starting point. 
Arizona
The Military Intelligence Museum in Sierra Vista highlights the role of Military Intelligence within the U.S. Army from 1775 to the present day.
California
The Technology Group at the California Academy of Sciences highlights the cybersecurity pros and cons related to household robots.
Computer History Museum in Mountain View chronicles the history and impact of computing and technological innovation on the human experience

Explore silicon technology

Intel Museum in Santa Clara, where decades of computer innovations are displayed. Learn about cybersecurity considerations when building semiconductors, fabrication, and chip design.
Georgia
The U.S. Army Signal Corps Museum in Fort Gordon shows how the military automates, transmits and receives voice and data information to keep the Army informed and ready to respond. 
Illinois
Maryland
Play along with the Power Up Game App to learn more about hacker attacks on the power grid at the Maryland Science Center in Baltimore.
The National Electronics Museum in Linthicum hosts exhibits related to development of defense and other key electronics systems and the commercial products derived from them. Includes virtual tour options.
The National Cryptologic Museum in Annapolis Junction shares the Nation's, and NSA's, cryptologic legacy and place in world history. Includes virtual tour options.
Ohio
Texas
Step into the role of a cyber sleuth in the Cyber Detectives exhibit at the San Jose Tech Museum of Innovation.
Consider the precautions needed with tracking wearables or engage in cybersecurity exercises with Raspberry Pi and Spark Fun Digital Sandbox kits at the San Antonio Museum of Science and Technology.
Washington
Washington D.C.
Virtual Tours
Not able to travel? Here are a few examples of virtual tours.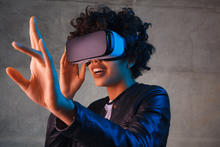 Know of others? Let us know at nice@nist.gov
Tours with local businesses can be arranged through your state or local Technology Council, Chamber of Commerce, or Economic and Workforce Development Boards. 
Colleges and universities may have interesting facilities to tour. Some offer degrees in cybersecurity while others might have certificate or specialization tracks aligned to degree programs in engineering, computer science, criminal justice, public policy, and business. Depending on the location, the name might vary. Cybersecurity, Information Systems, Information Assurance, Computer Security, Network Security are just some of the names used by institutions of higher education. Faculty and students can introduce you to cybersecurity and careers in cybersecurity. Some colleges have intercollegiate clubs to include: Cyber Defense Competition Clubs, Drone and Robotics clubs, Cryptography clubs, and Cybersecurity Policy clubs, all of which might be willing to share their enthusiasm and expertise.
For Higher Education and Industry Representation
In addition to the resources listed above, higher education faculty and students, as well as, those industry representatives and practitioners might consider exploring local meetups, conferences, hacker spaces, and associations. 
Tips for Exploring Cybersecurity in Your Local Community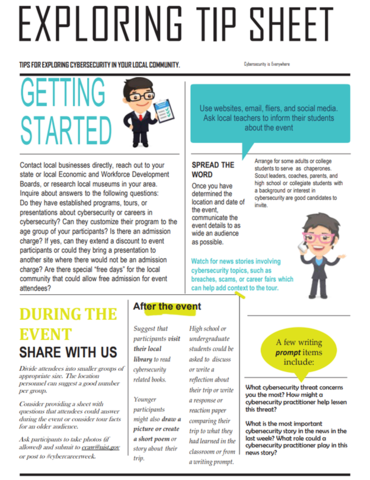 Before the Event
Contact local businesses directly, reach out to your state or local Economic and Workforce Development Boards, or research local museums in your area. Inquire about answers to the following questions:.
Do they have established programs, tours, or presentations about cybersecurity or careers in cybersecurity?
Can they customize their program to the age group of your participants?
Is there an admission charge? If yes, can they extend a discount to event participants or could they bring a presentation to another site where there would not be an admission charge? 
Are there special "free days" for the local community that could allow free admission for event attendees?
Once you have determined the location and date of the event, communicate the event details to as wide an audience as possible. Use websites, email, flyers, and social media. Ask local teachers to inform their students about the event.
Arrange for some adults or college students to serve as chaperones. Scout leaders, coaches, parents, and high school or collegiate students with a background or interest in cybersecurity are good candidates to invite.
Watch for news stories involving cybersecurity topics, such as breaches, scams, or career fairs which can help add context to the tour.
During the Event
Divide attendees into smaller groups of appropriate size. The location personnel can suggest a good number per group.
Consider providing a sheet with questions that attendees could answer during the event or consider tour facts for an older audience.
Ask participants to take photos (if allowed) and submit to

ccw

[at]

nist.gov

 or post to #cybercareerweek. We'd love to hear how you promoted Cybersecurity Career Week!
After the Event
Suggest that participants check a book out of their local library and bring it home to read. Younger participants might also draw a picture or create a short poem or story about their trip.
High school or undergraduate students could be asked to discuss or write a reflection on their trip, or write a response or reaction paper comparing their trip to what they had learned in the classroom or from a writing prompt. A few writing prompt items include:

What cybersecurity threat concerns you the most? How might a cybersecurity practitioner help lessen this threat?
What is the most important cybersecurity story in the news in the last week? What role could a cybersecurity practitioner play in this news story?

Ask participants to take photos (if allowed) and submit to

nice

[at]

nist.gov

 or post to #cybercareerweek. We'd love to hear how you promoted Cybersecurity Career Week!