NIST Multizone Modeling
The use of multizone modeling in more practical applications is increasing. Along with building research, multizone modeling can be applied to areas of building design and operation.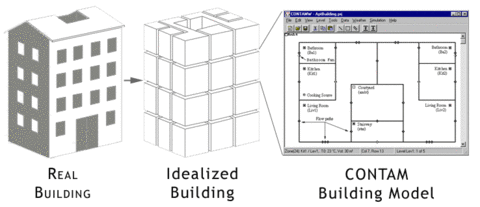 This website was developed by the 
Indoor Air Quality and Ventilation Group
 to foster the development and facilitate the application of multizone ventilation and indoor environmental modeling in the areas of building design, operation, maintenance, investigation and research. Within this website you will find software tools for performing multizone analysis, information on the applications of multizone modeling, multizone modeling case studies, and references to multizone modeling publications.
CONTAM 3.2 - (Released Sept 4th, 2015) including supporting software.

LoopDA 3.0 - (Released March 7th, 2012)