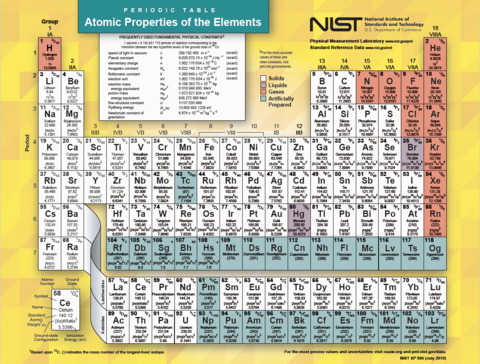 Version History  | Disclaimer
Alexander Kramida, Karen Olsen, and
Yuri Ralchenko
NIST, Physical Measurement Laboratory
The periodic table contains NIST's latest critically evaluated data for atomic properties of the elements. The PDF is suitable for high-resolution color printing for desk or wall-chart display.
Access the Table:
PDF without crop marks | PDF with crop marks
---
Formerly known as Standard Reference Database (SRD) 145, but reclassified as an information compilation to be consistent with the Standard Reference Data Act of 1968 and, as amended, January 2017.
Customer Support
NIST Special Publication 966
Online: April 1999  -  Last update: August 2019
---
This database was funded in part by NIST's Systems Integration for Manufacturing Applications (SIMA) Program.