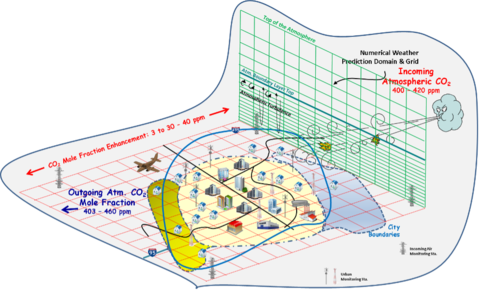 NIST is engaged in research to improve measurement of greenhouse gas emissions in areas containing multiple emission sources and sinks, such as cities. NIST's objective is to develop measurement tools supporting independent means to diagnose the accuracy of greenhouse gas inventory data at urban and regional geospatial scales.
NIST has established three test beds in U.S. cities to develop and evaluate the performance of advanced measurement capabilities for emissions independent of their origin. These test beds will serve as a means to independently diagnose the accuracy of emissions data obtained directly from emission or uptake sources. Central to this research is improving understanding and reconciliation of emissions data obtained from sources directly, sometimes termed bottom-up methods, and from top-down methods that use observations external to sources.
Located in Indianapolis, Indianapolis, the Los Angeles air basin of California, and the U.S. Northeast corridor (beginning with the Baltimore/Washington D.C. region), the test beds have been selected for their varying meteorology, terrain and emissions characteristics.
The Indianapolis (INFLUX) Urban Test Bed
Los Angeles Megacity Carbon Project
Northeast Corridor Urban Test Bed