For purposes of top-down GHG emissions monitoring, a high-resolution biospheric model is needed that can resolve fine-scale variability in the atmosphere due to biospheric fluxes.  Therefore, we currently focus on models that resolve the diurnal cycle and can be run at high spatial resolutions (e.g. 1-4 km2), with less emphasis on inferring net annual or multi-year carbon balance. 
The primary biospheric model currently run in-house is the Vegetation Photosynthesis and Respiration Model (VPRM; Mahadevan et al, 2008), which has been customized for an eastern North American domain upwind of and including the Northeast Corridor (Gourdji et al, 2022).  This customized VPRM takes advantage of a wealth of historical flux tower data within the region for parameterization and uses an updated respiration equation accounting for seasonality in biomass and leaf cover.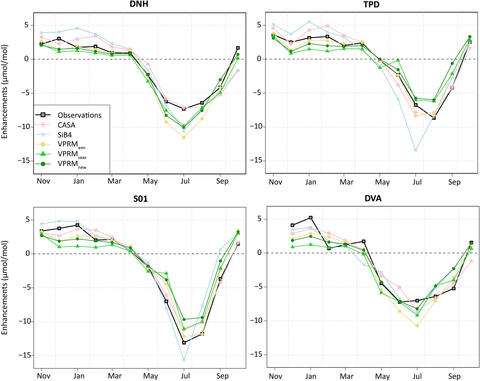 We also take advantage of an extensive regional network of in situ atmospheric CO2 measurement towers to evaluate modeled biospheric fluxes.  Atmospheric CO2 data provides the opportunity to evaluate fluxes at regional scales (10's to 100's of km) seen by the atmosphere, and not just the small footprints (~ 1km2) measured by flux towers.  Modeled biospheric CO2 fluxes from VPRM as well as other models like CASA (Carnegie-Ames-Stanford Approach, e.g. Zhou et al, 2020) and SiB4 (Simple Biosphere Model v4, e.g. Haynes et al, 2019) are inter-compared with atmospheric observational data and each other. 
---
Related Publications:
Mahadevan, P., Wofsy, S. C., Matross, D. M., Xiao, X., Dunn, A. L., Lin, J. C., et al. (2008). A satellite-based biosphere parameterization for net ecosystem CO2 exchange: Vegetation Photosynthesis and Respiration Model (VPRM). Global Biogeochemical Cycles, 22(2). https://doi.org/10.1029/2006GB002735
Sharon M. Gourdji, Anna Karion, Israel Lopez-Coto, Subhomoy Ghosh, Kimberly L. Mueller, Yu Zhou, Christopher A. Williams, Ian T. Baker, Katharine D. Haynes, James R. Whetstone (2021). A Modified Vegetation Photosynthesis and Respiration Model (VPRM) for the Eastern USA and Canada, Evaluated With Comparison to Atmospheric Observations and Other Biospheric Models. Journal of Geophysical Research: Biogeosciences 127(1). DOI: 10.1029/2021JG006290.
Zhou, Y., Williams, C. A., Lauvaux, T., Davis, K. J., Feng, S., Baker, I., et al. (2020). A multiyear gridded data ensemble of surface biogenic carbon fluxes for North America: Evaluation and analysis of results. Journal of Geophysical Research: Biogeosciences, 125(2), e2019JG005314. https://doi.org/10.1029/2019JG005314
Haynes, K. D., Baker, I. T., Denning, A. S., Stöckli, R., Schaefer, K., Lokupitiya, E. Y., & Haynes, J. M. (2019). Representing grasslands using dynamic prognostic phenology based on biological growth stages: 1. Implementation in the Simple Biosphere Model (SiB4). Journal of Advances in Modeling Earth Systems, 11(12), 4423– 4439. https://doi.org/10.1029/2018MS001540
Winbourne, J. B.,  Smith, I. A.,  Stoynova, H.,  Kohler, C.,  Gately, C. K.,  Logan, B. A., et al. (2022). Quantification of urban forest and grassland carbon fluxes using field measurements and a satellite-based model in Washington DC/Baltimore area. Journal of Geophysical Research: Biogeosciences, 127, e2021JG006568. https://doi.org/10.1029/2021JG006568