Optical Temperature Sensor (9,726,553)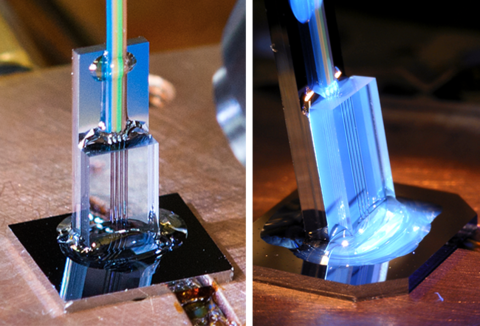 Year Granted: 2017
Inventors: Zeeshan Ahmed, Stephen Semancik, Jacob Taylor, Haitan Xu, Jingyun Fan, Greg Strouse and Mohammad Hafezi
Our modern world depends on accurate and rapid temperature measurements. Most sensors used are based on a temperature-dependent resistance measurement of a strain-free metal wire or thin film, but these are sensitive to environmental conditions and mechanical shock, and may drift over time.
Consider the photonic temperature sensor an ultra-sensitive alternative. This device works by manipulating light's interaction with structures etched into a chip. It's low-cost, lightweight, portable and resistant to the interference of magnetic and electrical fields. From controlled laboratory conditions to a noisy factory floor to private residences, this thermometer can handle its surroundings.
Photonic thermometry is part of the NIST on a Chip program, which seeks to unleash American innovation with technologies that can be deployed nearly anywhere and anytime, without the need for periodic calibration.