Security Technologies Group
Our group develops measurement science in support of performance-based standards for technologies used by law enforcement, corrections, emergency response, and the military; and advances these technologies to support the needs of these stakeholders.
Measurement science is developed for body armor systems, ballistic-resistant materials, less-lethal weapon technologies, surveillance technologies, detection of hazardous materials, and advanced sensing of concealed objects based on physical, radiological, and electromagnetic measurements. We perform system development and basic phenomenology research in concealed object detection and through-barrier sensing. We actively engage standards development organizations to lead the development of standards, conformity assessment programs, reference measurement facilities, and third-party accreditation systems.
Programs and Projects:
 Ballistic Resistant Body Armor
The STG conducts research, develops and refines test methods, and establishes performance evaluation metrics to evaluate ballistic resistance of body armor and other materials. The STG has over 10 years of experience evaluating the long-term stability of high strength fibers and developing novel methodologies for characterization of these materials. The STG conducts research to improve the understanding of how armor and ballistic resistant materials respond during ballistic impacts, and to develop improved armor-related test methods. The STG works to meet the needs of the law enforcement, corrections, and military communities, and the effort is strengthened by interactions and collaborations with protective equipment manufacturers and researchers from around the world.
The STG conducts and performs research to advance the technology and measurement science of threat object detection. To advance these technologies, the STG studies the basic phenomenology of threat detection and develops tools to exploit this knowledge. This work includes the establishment of test and evaluation tools, reference test beds, and documentary standards through leadership in standardization bodies. The STG currently has projects in millimeter-wave imaging, hyperspectral/multi-spectral imaging, and metal detection. 
      

Figure 1. List of some of                             Figure 2. Passive millimeter-wave

the standards used in threat                     image of threats concealed

object detection.                                        on a person

 
Stab Resistant Body Armor
The STG also conducts research, develops and refines test methods, and establishes performance evaluation metrics to evaluate the stab resistance of body armor. This effort is currently focused on novel and advanced techniques to characterize a test event for stab-resistant body armor. Research within this project has led to the development of an instrumented drop mass that measures acceleration in three directions. Another major focus area of research is on understanding the influence of backing material selection on stab-resistant body armor test results. The STG develops novel characterization methods for these materials and recommends better specifications for this critical material.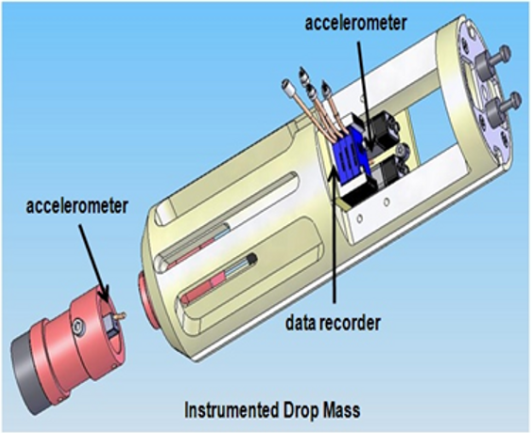 Figure 3.   Instrumented drop mass for stab
test fixture.
Figure 4. Stab test fixture.
Security and Safety Imaging
The STG develops the measurement science for the objective, accurate, repeatable, and reproducible characterization of the performance of imagers and imaging systems. This includes developing test methods and systems, reference test beds, test objects, calibration artifacts, and documentary standards through leadership in standardization bodies. STG current projects include imagers and imaging systems in the x ray, visible to near infrared, and long-wave infrared bands. The STG develops methods to accurately quantify the performance of biometric modalities.
Safety and Security Imaging Metrology
We develop the measurement science for object and reproducibly assessing he performance of the plethora of imaging technologies used by law enforcement, corrections, and security agencies, including the ubiquitous low-cost visible-light systems to the less-common high-cost infrared systems or hyperspectral imaging systems.

Figure 5. Histogram of minutiae occurrence with respect to local ridge orientation deviation.
Through-barrier radar systems provide law enforcement and emergency response personnel the capability to remotely detect and locate humans inside a building or otherwise obscured. Commercially available systems offer varying levels of performance and user interfaces. The STG uses a laboratory based through-barrier radar system to develop test methods and test objects to measure critical parameters that quantify the performance of such systems.
The STG has developed a state-of-the-art system for accurately and reproducibly measuring the current and high-voltage output of electroshock weapons. The STG develops the measurement science for the technologies used in speed traffic enforcement.
Figure 6. General geometry of vehicle speed measurement by law enforcement.
Projects and Programs