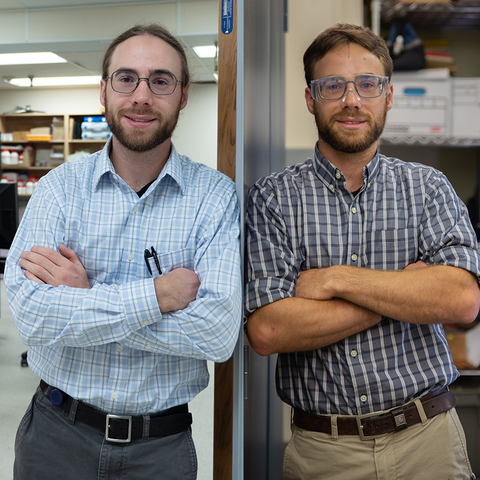 This is a tale of two brothers who both found a passion for mechanical engineering research, separated to pursue their own interests in graduate school, and came together again at NIST (albeit at campuses in different states). 
Twin NIST postdoctoral researchers Alexander Landauer (at right in photo) and Orion Kafka grew up in rural Vermont, home-schooled by their parents — both educators — until the sixth grade. As they navigated coursework through middle and high school, both embraced a mindset for mechanics and hands-on activities. 
Moving on to the same college for undergraduate studies, Clarkson University, Alex and Orion began pursuing research topics specific to their unique interests. In a summer research program, Alex turned toward orthopedic biomechanics — microscale bone material properties — while Orion ran experiments to study the fatigue of structural materials. 
The different research interests became more pronounced when the two brothers interned at Oak Ridge National Laboratory. Alex studied the properties of oil additives at the nanoscale. Orion calculated ways to make harsh processes, such as smelting for glass, more energy efficient. The experience gave the two an appreciation for work happening at national laboratories.
This is where the two part ways in their story: Ph.D. studies. Alex attended Brown University to dive deeper into experiments with soft materials and cell biomechanics. Orion headed to Northwestern University in pursuit of experience with computation and materials science. 
Eventually, their paths reconvened when they both applied to work as postdocs through the NRC Research Associateship Programs. 
During his doctoral studies, Alex had explored materials associated with impact protection equipment (such as football helmets and soccer shin guards) and measurement techniques for the cell mechanics of traumatic brain injuries. At the time he earned his degree, in October 2019, NIST was wrapping up a collaborative challenge to explore materials for helmets that could better withstand impact and prevent those injuries. A principal investigator of NIST's effort had an NRC opening, and Alex applied. 
Orion found NIST in a wholly different way. At the start of his graduate studies, he was introduced to NIST through a joint center with his university called the Center for Hierarchical Materials Design (CHiMaD). Orion worked collaboratively with CHiMaD researchers, developing models to determine how strong new alloys needed to be for their intended functions (e.g., stents and heart valve frames). He saw a NIST call for postdocs in metal additive manufacturing and applied. 
Alex ended up on NIST's campus in Gaithersburg, Maryland; Orion settled into life on NIST's campus in Boulder, Colorado.
Now, the two brothers have their own unique projects at NIST, but there are opportunities for collaboration across the distances. Alex has experience with imaging-based techniques in experiments, and Orion can bring data-driven modeling techniques to help. 
So in this case, the family that researches together may produce great results together (such as this dataset). We'll see what comes next!