This open challenge was a joint effort of NIST, the National Football League, Under Armour, and GE to advance the state-of-the-art in advanced materials for impact mitigation in athletic protective equipment, particularly when used in protective helmets.
There were 125 advanced material systems submitted for consideration.  Based on a technical review of these submissions, 21 were selected for testing. A team of independent judges used the results from testing at NIST, and other factors, to select five finalists.  Each of these finalists received funding for one year of research and development to further advance their material system.  NIST tested each of these systems four times during the year to assist the finalists with their development efforts.
NIST testing focused on characterizing and documenting the response of these materials to...
• . . . compressive loads.
• . . . a range of loading rates.
• . . . a range of temperatures.
• . . . repeated loading.
• . . . shearing loads while compressed.
At the end of the year of the finalist's research and development work, a team of independent judges reviewed the materials and judged them on their performance, their performance improvement during the course of the competition, the material innovation, and commercialization potential.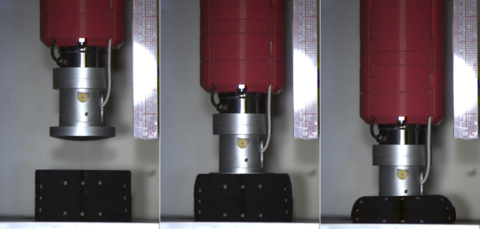 Collaborators
The NFL
Under Armour
GE
Major Accomplishments
The winning material, a system developed by the team of Dynamic Research, of Torrance, California, and 6D Helmets, of Brea, California, was announced in September 2017.
Related NIST Projects
Materials and Systems for Protection Against Penetrating and Blunt Force Phenomena