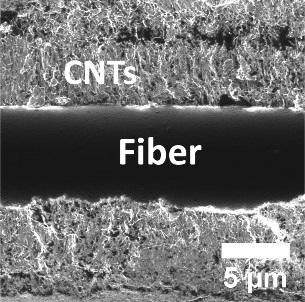 The global demand for fiber reinforced polymer composites (FRP) is expected to increase by 40 % to $105B by 2021. This demand will be driven in aerospace and automotive industries by requirements for lightweight, lower-cost carbon-fiber-based materials. Glass fibers will continue to represent over 90 % of the reinforcements required in composites for infrastructure, energy generation, and pipelines. Regardless of the commercial application space, future FRP materials will need to exhibit better performance for a longer time and exhibit multifunctional capabilities.  Hierarchical composites manipulate order from nm to mm length scales to generate multifunctional properties.  Coupling these nanoscale reinforcements with fiber composites increases shear strength, adds integrated health monitoring, and even mitigates failure processes.
The STG c develops the metrology that will lead to the understanding of the structure-property relationships of hierarchical composites in real applications, where heretofore has been lacking. This project establishes in situ monitoring of advanced manufacturing processes, structural health monitoring, and actuation in particulate and fiber composites.  STG currently has projects in:
Research opportunities may be found here.