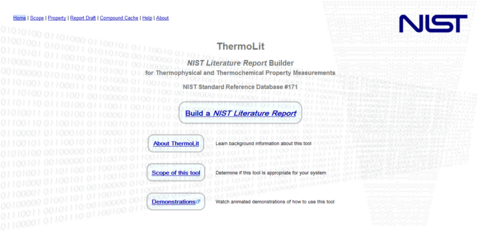 This web application ( https://trc.nist.gov/thermolit/main/home.html ) provides free and open access to literature information contained in the NIST SOURCE Data Archive, and provides an easy-to-use tool for generation of a NIST Literature Report in PDF format. The tool is intended to aid researchers and reviewers in determining relevant literature sources for a given experimental measurement; however, it is not intended to replace the comprehensive literature review required by all journals, and no guarantee is made regarding completeness of the information provided. For an analysis of the comparative impact a particular measurement may have, the ThermoPlan: Experimental Planning and Coverage Evaluation Aid for Thermophysical Property Measurements web tool is recommended.
Features
Search for sources of experimental thermodynamic or transport data (limited to three unique chemical components) some articles related to inorganic and organometallic components are included

Search for up-to-date literature and historical literature based on:

 single component, mixture, or ternary chemical systems
thermophysical or transport properties

Output a pdf of all references for selected search query
Scope
Pure organic components
Binary mixture systems organic components
Ternary mixture systems organic components
Thermodynamic properties
Thermochemical properties
Transport properties
Licensing
There is no cost  to access the ThermoLit database
ThermoLit is distributed by Standard Reference Data Program,
National Institute of Standards and Technology, Gaithersburg, MD 20899.
NIST ThermoLit Database Citation Examples
In-text:
Data provided via the NIST ThermoLit (SRD#171)+[version] was used.
In a list of References:
Krroenlein, K.; Diky, V.; Muzny, C.D.; Chirico, R.D.; Magee, J.W.; Frenkel, M. "NIST Standard Reference Database 171: ThermoLit- NIST Literature Report Builder for Thermophysical and Thermochemical Property measurements", Version, National Institute of Standards and Technology, Gaithersburg, MD, 20899, https://trc.nist.gov/thermolit/main/home.html#home , (accessed #date) .
The National Institute of Standards and Technology (NIST) uses its best effort to deliver a high-quality interface and access to the underlying database, and to verify that the methods and data contained therein are broadly comprehensive and have been selected on the basis of sound scientific judgment. However, NIST makes no warranties to that effect, and NIST shall not be liable for any damage that may result from errors or omissions in this information resource. This resource is designed to be a software aid for reporting new experimental measurements of thermophysical properties, but in no way substitutes for intensive literature review, relevant data analysis, and judgments based on specific needs.