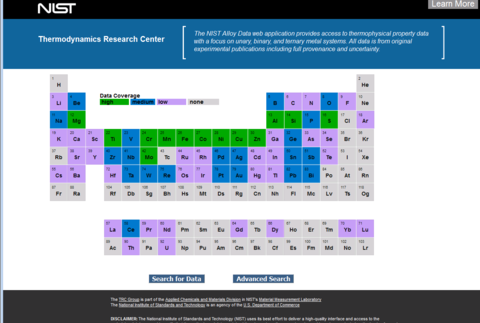 About and Purpose
The NIST Alloy data web application (https://trc.nist.gov/metals_data) provides access to thermophysical property data with a focus on unary, binary, and ternary metal systems. The data collection effort has been conducted in an effort with the Materials Genome Initiative in an effort to increase materials discovery. The data collection effort started in 2014 with a trial system of aluminum, magnesium, and silicon (and their binaries and ternary system data).  Progress has been made collecting data for pure elemental data using a modified version of the Guided Data Capture program used in our Journal Collaboration effort.  The site went up Jan. 1 2017, and will continue to grow.    
Features
No cost access to thermophysical property data of metal-based systems
Detailed descriptions of key elements of each dataset including:

 Processing, uncertainties, and purity information from experimental investigation.
Full citation information for each datum. 

Various search options based on selected metallic elements 
Licensing
There is no cost  to access the NIST Alloys Data web application.  
NIST ALloy data  Citation Examples
We would appreciate acknowledgement if the software is used; please cite.
In-text:
Data provided via the NIST Alloy data web application, DOI: 10.18434/M32153
In a list of References:
E. A. Pfeif and K. Kroenlein, Perspective: Data infrastructure for high throughput materials discovery, APL Materials 4, 053203, 2016.doi: 10.1063/1.4942634
This software was developed at the National Institute of Standards and Technology by employees of the Federal Government in the course of their official duties. Pursuant to title 17 Section 105 of the United States Code this software is not subject to copyright protection and is in the public domain. Each of these packages is an experimental system. NIST assumes no responsibility whatsoever for its use by other parties, and makes no guarantees, expressed or implied, about its quality, reliability, or any other characteristic.