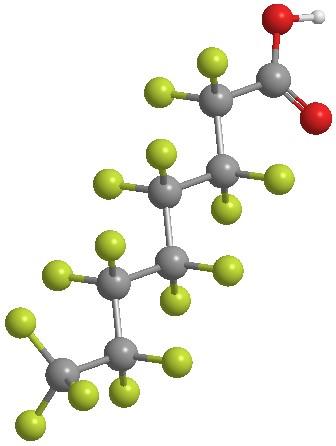 Per- and polyfluoroalkyl substances (PFAS) belong to a class of chemical compounds that includes a fully or partially-fluorinated carbon chain, that gives the compounds unique properties for a variety of commercial and industrial applications. PFAS have been recognized as emerging environmental contaminants and are deemed persistent, bioaccumulative, and toxic to humans and wildlife [https://www.epa.gov/pfas]. Due to their unique structure and properties, PFAS can be difficult to measure confidently; in addition, there are a wide range of chemical structures of PFAS and limited availability of chemical standards for these measurements. For these reasons, researchers at NIST have been developing reference materials and data resources that can be used to increase confidence in PFAS measurements, including the targeted, quantitative measurement and the nontargeted, qualitative identification of PFAS in human and environmental matrices.
Currently, NIST provides nine difference reference materials that have measured amounts of PFAS, for the list visit NIST SRM Website. Additional reference materials for unique matrices, like drinking water and technical solutions, are in development.
Objective
To create reference materials and data for the quality assurance of PFAS measurements; including quantitative and qualitative measurements.
Current Activity
PFAS in Food and Agricultural Products


Currently, there are a limited number of food matrix reference materials that contain measurable PFAS, see the NIST SRM Website for the current list. In collaboration with the U.S. Food and Drug Administration, NIST is developing reference materials for PFAS in commercial meat products, to enable better measurements of PFAS in these materials by food safety agencies and analytical laboratories. In addition, NIST researchers are exploring other food and agricultural products for future reference materials. For more information, or if you have specific food matrices of interest, contact

pfas

[at]

nist.gov

.
 
Exposure of per- and polyfluoroalkyl substances (PFAS) from firefighter's gear (FFG)


There is growing evidence that firefighters are being exposed to PFAS associated with their gear. The source of the PFAS may be from the firefighter gear (FFG) construction materials or manufacturing process, deterioration of the FFG while in use, and/or deposition on the FFG while at the fire scene. To characterize and reduce the firefighter's risk of being exposed to PFAS, NIST is planning a new study to understand the type, prevalence, and concentration of PFAS on the FFG, the source of PFAS, and the mechanism for PFAS release from the FFG. This study is being conducted in collaboration with the NIST's Flammability Reduction Group. For more information on this project or other research in this group please contact Dr. Rick Davis at

rick.davis

[at]

nist.gov

or 301-975-5901.
 

PFAS in Drinking Water Reference Material


Drinking water is the largest source of PFAS exposure to humans. To address the needs of regulators and analytical laboratories measuring drinking water; NIST is developing a reference material for low levels (ng/L or parts per trillion) of PFAS in municipal drinking water.
 

PFAS in Aqueous Film Forming Foam (AFFF) Reference Material Suite


AFFFs containing PFAS have been used for many years to fight fires and for training to fight fires.

 

As a source of PFAS in the environment, aqueous film-forming foams are known to contain a variety of PFAS with unique structures and high concentrations. Scientists at NIST are developing a suite of AFFF with PFAS of varying concentrations and structure to provide quality control materials for laboratories to use when measuring AFFF-contaminated environmental samples.

Currently, registration is open for an interlaboratory study to evaluate the measurements of targeted PFAS in AFFF formulations; registration is closing December 31, 2019. See https://qa.nist.gov/csd_ils for more information.
 

Reference Data for the Identification of Novel PFAS


For many PFAS, there are few or no analytical standards available for the verification of chemical identity using advanced techniques like liquid chromatography with high-resolution mass spectrometry (LC-HRMS). There is a significant need from the community for high-quality reference data for the identification of PFAS by LC-HRMS; therefore researchers at NIST are working on new tools and databases that make PFAS reference data available and usable.
PFAS Postdoctoral Research Opportunities
In addition to reference material and data resource development, NIST has opportunities for recent graduate students to perform novel research related to PFAS through the National Research Council Research Associateship Program. NRC research opportunities include:
Contact
For more information, please contact pfas [at] nist.gov.