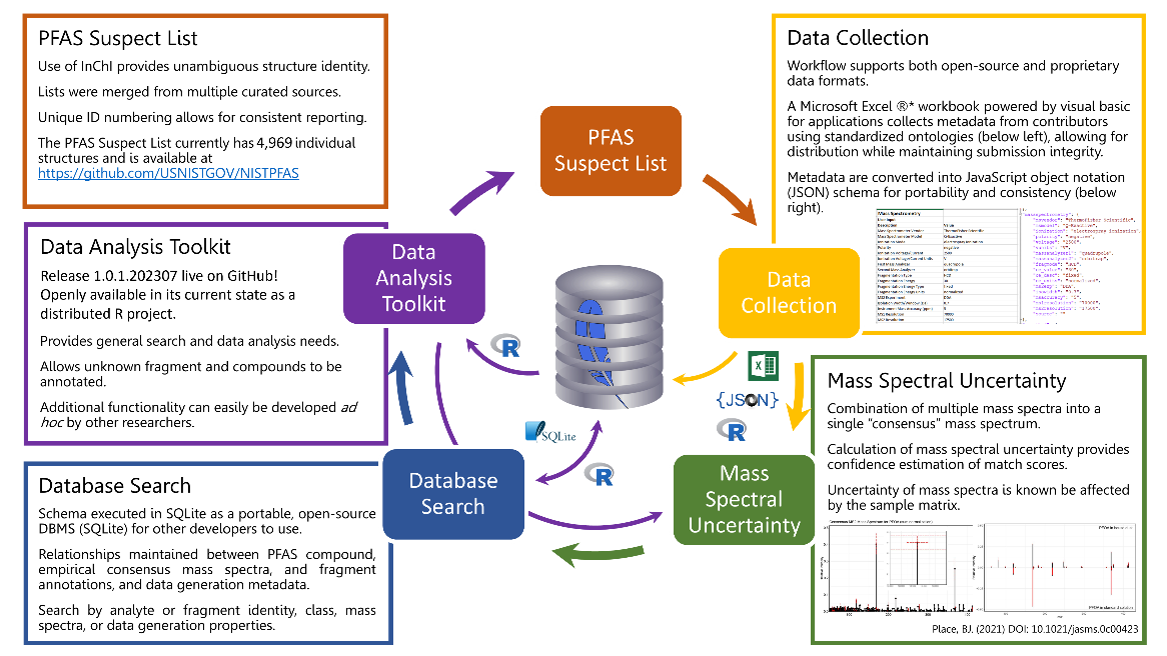 For many PFAS, there are few or no analytical standards available for the verification of chemical identity using advanced techniques like liquid chromatography with high-resolution mass spectrometry (LC-HRMS). There is a significant need from the community for high-quality reference data for the identification of PFAS by LC-HRMS; therefore, researchers at NIST are working on new tools and databases that make PFAS reference data available and usable.
Improving Access and Utility of Analytical Data for the Confident Discovery, Identification, and Source-Attribution of PFAS in Environmental Matrices (SERDP Project ER20-1056)
The use of spectral libraries is essential to the success of a non-targeted analysis (NTA) protocol to identify unknown per- and polyfluoroalkyl substances (PFAS) in environmental samples. Current spectral libraries are limited due to the lack of standard data formats and database structures, which limits interoperability between analytical laboratories and even different platforms within laboratories. The main objective of this project is to develop a data analytics infrastructure to contain PFAS mass spectral information and metadata of detected PFAS. With an open database structure, analytical laboratories will be able to include this database in their NTA workflow to identify unknown PFAS.
If you are interested in contributing to the PFAS Mass Spectral Database, go to the PFAS Data Submission page.