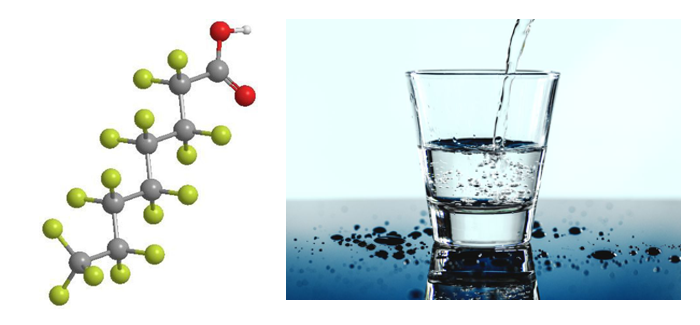 Per- and polyfluoroalkyl substances (PFAS) belong to a class of chemical compounds that includes a fully or partially-fluorinated carbon chain, that gives the compounds unique properties for a variety of commercial and industrial applications. PFAS have been recognized as emerging environmental contaminants and are deemed persistent, bioaccumulative, and toxic to humans and wildlife [https://www.epa.gov/pfas]. Due to their unique structure and properties, PFAS can be difficult to measure confidently; in addition, there are a wide range of chemical structures of PFAS and limited availability of chemical standards for these measurements. As specific PFAS are identified as toxic and present in food, drinking water, humans, firefighter textiles, and the environment, it is important that laboratories can measure these compounds with confidence.
Why is NIST Involved with PFAS?
 PFAS encompass a huge number of diverse chemicals. Identifying and measuring such a wide array of chemicals is a major challenge.  NIST tools including reference materials and databases to assist the measurement community in harmonizing PFAS measurements. Because of NIST's deep measurement capabilities, NIST also tackles complex questions arising from PFAS contamination.
For these reasons, researchers at NIST have been developing reference materials and data resources that can be used to increase confidence in PFAS measurements, including the targeted, quantitative measurement and the nontargeted, qualitative identification of PFAS in human and environmental matrices.
Currently, NIST provides eleven reference materials that have measured amounts of PFAS, for the list visit NIST SRM Website. Additional reference materials for unique matrices, like drinking water and technical solutions, are in development.