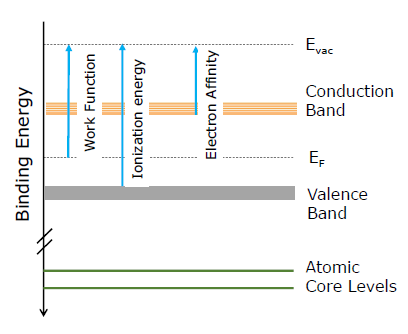 The electronic band structure of a solid is a fundamental property which defines how a material will be used and integrated into device form. Electronic properties and energy levels are not universal values for a given system. For a single crystalline material, the work function value varies with crystallographic planes. In less mature technologies where fabrication quality is still in development, this becomes very apparent on the dependency of electronic/optical and structural properties on the growth and device fabrication methods. For example, atomically thin 2D materials are extremely sensitive to their surroundings (interfaces with gate dielectric, contacts etc) and bandgap renormalization is profound. Many reports of the conduction band level or electron affinity are not directly measured but are estimated from (i) measuring the valence band level and optical band gap, or (ii) calculated from theory. Inverse photoemission (IPES) has not been performed on many semiconductor systems let alone emerging quantum materials due to some measurement-related challenges.
One of the most common ways to probe the electronic structure (e.g., band structure) is by way of photoemission (PES or photoelectron spectroscopy). We apply electron-based analytical methods to directly access the electronic and chemical properties of candidate quantum systems based.
Our approach is twofold – measure the electronic properties of emerging systems (e.g., topological insulators, 2D layered materials) and going further by designing heterointerfaces to generate/exploit/confirm robustness of emerging states. We will apply a suite of advanced electron-based measurement methods to measure and characterize electronic properties such as one photon photoelectron spectroscopy (XPS, UPS), inverse photoemission (IPES), and photoemission electron microscopy (PEEM). NIST Gaithersburg is home to a unique suite of electron spectroscopy, with capability spanning both occupied and unoccupied density of states (DOS) and analytical lateral area from 100 μm2 (PEEM), 1 mm2 (UPS/XPS), to 1 cm2 (IPES). We also collaborate with a group at the Helmholtz Zentrum Berlin for measurements using a novel, angle-resolved time-of-flight (ARTOF) electron spectrometer which allows for efficient access to the valence band for "small" and radiation-sensitive systems. We have previously applied some of these measurement techniques to molecular-based solids and hybrid organic-inorganic interfaces in devices for memory-based application. We work in close collaboration with materials growers and synthesis, device physicists, and electrical engineers to advance nanoscale and quantum-based technologies.