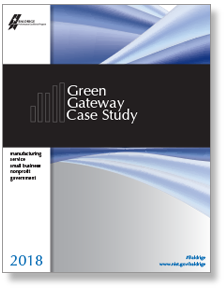 In the Baldrige program's 1997 case study, the fictitious Gateway Estate Lawn Equipment Co. demonstrates how the Baldrige Criteria (part of the Baldrige Excellence Framework) could be applied to a U.S.-based, worldwide business to achieve performance excellence. During 2018 Baldrige examiner training this spring, Baldrige examiners again used a case study about the fictitious Gateway, this time studying how one of its divisions, Green Gateway, applies the current Baldrige Criteria (which are revised every two years) across seven key areas of performance. Using the new case study, training participants offered suggestions for how the U.S. manufacturer could innovate and improve.
The 2018 Baldrige Case Study: Green Gateway is a representative sample of a Baldrige Award application and shows how a manufacturer can answer the performance-assessment questions in the Baldrige Excellence Framework: A Systems Approach to Improving Your Organization's Performance. The Green Gateway case study was written intentionally not to create a role-model organization so that there would be plenty of opportunities for Baldrige examiners to identify where it had opportunities for improvement (as well as strengths).
Baldrige case studies have at least three purposes. First, given that actual Baldrige Award applications remain confidential until award-winning organizations approve selected content for public sharing, the case studies are used to train examiners for the Baldrige Program's annual award process. Second, the case studies serve as sample applications for organizations interested in applying for a Baldrige Award or in writing a whole or partial application as a self-assessment. In addition, the case studies show organizations in every sector how they might use the Criteria questions to assess and improve their performance, even if they are not interested in applying for a Baldrige Award. Case studies are also used by Baldrige-based regional or state award programs that are members of the nonprofit Alliance for Performance Excellence, part of the Baldrige Program's public-private partnership.
Created by volunteer Baldrige alumni examiners Deb Manzo (team leader), Eric Franks, and Larry Kimbrough, the Green Gateway case study depicts one of Gateway's four company divisions; the division depicted manufactures medium-size gas and diesel-power lawn tractors. The Green Gateway case study was reviewed by Baldrige alumni examiners Luis Calingo, Catherine Craver, Jon Gray, and Mac McGuire.
Green Gateway's vision is to be the leading manufacturer of quality lawn tractors with a low cost of ownership and the best overall value; its mission is to create new value through innovation and a focus on quality, cost, and delivery. To show its quest for excellence, the fictitious manufacturer borrows some industry best practices such as the use of Safety, Quality, Delivery, Cost, Morale, Environment (SQDCPME); the NIST Cybersecurity Framework and the Baldrige Cybersecurity Excellence Builder; and the DMAIC (Design, Measure, Analyze, Improve, Control) methodol­ogy. For realism, Green Gateway was written to operate under the regulatory requirements of its industry, with strategic challenges familiar to many U.S. organizations: workforce retention, off-shore competition, and cybersecurity.
You can learn how Green Gateway scored in an assessment against the 2017–2018 Baldrige Excellence Framework through the following free, downloadable resources:
2018 Green Gateway Consensus Scorebook (Word) was produced by a team of Baldrige alumni examiners (Denise Haynes [team leader], Glenn Hamamura, Kay Kendall, MaryAnn Pranke, Kurt Schoch, Doug Serrano, Maureen Washburn, and Tash Zukowski) who evaluated the fictitious organization against the Criteria. This scorebook also includes insights gleaned from Baldrige examiners who participated in the 2018 Baldrige examiner preparatory class.
2018 Green Gateway Feedback Report (Word) shows the scorebook comments in the format of the reports received by actual Baldrige Award applicants at the end of the annual evaluation process.
Beyond learning from best practices and other examples in this case study, manufacturing organizations that wish to get started with Baldrige-based performance improvement can access sector-specific resources online at "Baldrige by Sector: Manufacturing" and basic ideas for how to get started using the Baldrige framework. Resources for service, small business, education, and nonprofit organizations are also available online.
Since 1987, the Baldrige Program has produced case studies that describe how fictitious organizations are fulfilling the requirements of the excellence framework and continually improving in challenging situations and economies. The case studies rotate sectors to show examples for a variety of organizations using the three versions of the Baldrige Excellence Framework: Business/Nonprofit, Health Care, and Education.
Additional Baldrige case studies are available for free downloading in the Baldrige materials archive.