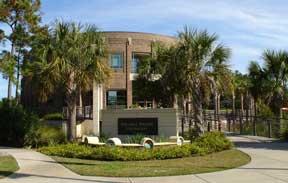 Overview
---
The Hollings Marine Laboratory is built on an approximately 8-acre site within the Fort Johnson campus of the South Carolina Marine Resources Center in Charleston, South Carolina. Dedicated on December 21, 2000, the laboratory is a facility that promotes collaborative and interdisciplinary scientific research to sustain, protect, and restore coastal ecosystems.
The HML approach brings basic, applied, and medical researchers together to work collaboratively on factors that affect the health of coastal waters and humans who live in or visit the coastal zone. The HML paradigm is based on four central premises: (1) modern marine research is increasingly complex, necessitating an interdisciplinary approach; (2) no one organization possesses the breadth of intellectual capital needed to address the increasingly complicated coastal issues facing society; (3) the interaction of the research findings of scientists from different disciplines and institutional backgrounds often results in significant synergy, leading to unanticipated advances in, and applications of, human knowledge; and (4) involvement of undergraduate, graduate and postdoctoral students, distinguished visiting scholars, and resource management practitioners in research related to NOAA's missions provides invaluable long-term benefits to the nation.
Although the HML is a NOAA-owned facility, it is a fully collaborative enterprise, governed by the five partner organizations through a Joint Project Agreement. Scientists from all partner institutions work side-by-side in the new laboratory, taking advantage of each other's special expertise.

Partnerships at Hollings Marine Laboratory
---
Team research is the theme of the Hollings Marine Laboratory. No longer can one scientist working in one discipline, or at one institution, independently provide solutions to the coastal environmental and public health problems of this nation. The cumulative and combined expertise and skills of the Partners provide the resources that allow the research teams to assess marine environmental quality and link it to human health.
The overall research partnership exemplified by the HML provides a model for the kinds of collaborative approaches that can be utilized to enhance research. The HML approach takes advantage of the wide range of intellectual and other resources of its partners, including federal and state governmental agencies and academic institutions.

HML Partners
---

NIST Charleston's Mission
---
to improve the quality of analytical measurements in marine environmental research and monitoring
to improve the capabilities to assess trends in environmental quality by developing and expanding environmental specimen banking
as a partner in the Hollings Marine Laboratory, to promote the development of cooperative and collaborative scientific research for a better understanding of marine resources and environmental health.