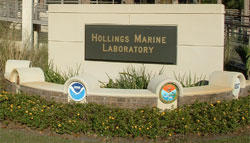 The HML is a 94,000 sq ft laboratory designed to promote interdisciplinary research from molecules to ecosystems through the sharing of expertise, specialized equipment, space, and other resources. To carry out these studies, the HML is equipped with state-of-the-art analytical instrumentation necessary to identify and quantify pollutants, toxicants, and pathogens; Level 2+ biosafety laboratories for dealing with viruses and other disease-causing organisms; seawater systems and aquaculture facilities to produce quantities of selected marine species for research; a nuclear magnetic resonance (NMR) facility for identification of marine toxins and potential pharmaceutical agents; an ecological field collection launching and sample preparation area; a cryogenic specimen bank for preservation of a variety of marine-related biological samples, including protected species; and one of the nation's leading genomic laboratories devoted to marine species.
The HML has 41,000 sq foot of laboratory space including:
---
Analytical and Environmental Chemistry
Cutting edge chemical measurement laboratories for environmental analyses which include elemental or molecular mass, molecular structure, and quantity of substances
Nuclear magnetic spectrometry
Mass spectrometry
Aquatic Production
Ten independent seawater culture systems each with a self contained filtration package totaling more that 100 cubic meters of culture volume together with a support lab and food preparation area.
Access to Waddell Mariculture Center
Ecological Field Processing
Facilities for launching field collection activities, sample processing and equipment storage for ecological assessments and a platform for testing new tools and techniques
18' boat R/V TideCreek with 82" beam
12 continuous measure water quality dataloggers with chlorophyll and oxidation/reduction potential probes
Cellular-Molecular Biology
Biosafety Level 2 facilities dedicated to the support of recombinant DNA library construction and the cloning and propagation of libraries
Robotic spotter and arrayer
Robotic microarrayer
Real-time PCR
Microscopy
Scanning Electron Microscope
Confocal Microscope with multi-line argon, green helium neon, and red helium neon lasers
Light Microscopes
Cryogenic facilities for long term-archival of well documented and preserved specimens for both retrospective and comparative environmental health analysis.
Clean rooms
Challenge Laboratories
Suite of laboratories adaptable to environmental conditions that include light, temperature, salinity and oxygen for animal health and toxicology research
Level 2+ Biosafety laboratories
Four level 2+ laboratories to bring in unknowns and separate projects that require a heightened level of safety and isolation.
Nuclear Magnetic Resonance
High field facilities and laboratories to support structural biology, metabonomics and natural product research
800 MHz instrument
700 MHz instrument
Auxiliary equipment such as magic angle and flow probe