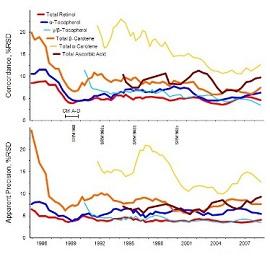 In the past, NIST coordinated several quality assurance programs to assist participants in identifying and understanding community-wide measurement challenges, improving the accuracy of their measurements, and demonstrating an effort to comply with various regulations. These programs offered the opportunity for laboratories to assess their in-house measurements, and participation in a quality assurance program in conjunction with the use of SRMs has been shown to improve the comparability and precision of data over time.
BIOSCIENCE AND HEALTH
NIST established a Health Assessment Measurements Quality Assurance Program (HAMQAP) in 2017, in part as a collaboration with the National Institutes of Health (NIH) Office of Dietary Supplements (ODS). Participants measured concentrations of nutritional and toxic elements, fat- and water-soluble vitamins, fatty acids, active and/or marker compounds, and contaminants in samples distributed by NIST. Samples that represent human intake (e.g., foods, dietary supplements, tobacco) were paired with samples that represent human metabolism (e.g., blood, serum, plasma, urine), and analytes were paired where possible to represent the full spectrum of health assessment. Participant data was compiled at NIST and analyzed for accuracy, precision, and concordance within the community. Reports and certificates of completion were sent to participants. HAMQAP served a wide range of analytical testing communities previously supported via other historical QA programs, such as the Dietary Supplement Laboratory QAP, Micronutrients Measurement QAP, Fatty Acids in Human Serum and Plasma QAP, and Vitamin D Metabolites QAP. To address participant feedback indicating a desire to return to more targeted testing schemes, as well as to streamline the expanding NIST QAPs, the final HAMQAP exercise was conducted in 2021. NIST will continue to support these measurement communities through new and invigorated programs, such as the Clinical Measurements QAP, Dietary Supplement Laboratory QAP, and Food Nutrition and Safety Measurements QAP.
ENVIRONMENT
The marine mammal interlaboratory comparison program was initiated in the early 1990s as informal comparisons among NIST, NOAA, and several other laboratories. By 2000, the measurement of trace elements and organic contaminants in marine mammal tissues was formalized in annual or biennial interlaboratory exercises. Since that time, participation has increased dramatically both domestically and internationally. In addition to providing an assessment of interlaboratory measurement comparability, the organic contaminant exercises have also provided information on new constituents, including fatty acids and brominated flame retardants in SRM 1945 Organics in Whale Blubber, which has been used routinely as a control material for the exercises. The trace element exercise has resulted in the development of three trace element control materials from marine mammal livers, a pilot whale liver homogenate in 1991 and beluga whale and pygmy sperm whale liver homogenates in 1997 and 2003, respectively.
Until 2000, these intercomparison exercises were carried out with financial support from both NOAA and NIST. Beginning in 1993, laboratories not directly involved with NOAA programs (e.g., private laboratories) were allowed to participate in the exercises by paying a participation fee. Since 2000, NIST has required all laboratories participating in the organic exercises to pay the participation fee, which partially covers the costs of the program.  In 2010, NIST supported the NOS Office of Response and Restoration in underpinning collection and measurement of samples relating to the Deepwater Horizon Oil spill.  This was done by providing (1) protocols for the collection and storage of marine samples and (2) conducting a series of four interlaboratory comparison exercises to help assess data quality among laboratories providing data to be used in the damage assessment.