DESCRIPTION
Interlaboratory comparison studies are directed toward the measurement of 24 fatty acids in selected serum and plasma matrices. Frozen or freeze-dried serum or plasma samples together with control materials are sent to laboratories for analysis. Results are then returned to NIST for data evaluation and tabulation. Value-assignment of the samples is based on the median of all the laboratory results, with confirmation based on measurement at NIST using one or more different methods. Consultation and troubleshooting regarding methods of analysis are also provided.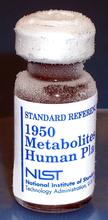 A report of exercise results is sent to participants that summarizes the results from each comparability study. Standard Reference Material (SRM) 1950 We recommend the use of SRM 1950 Metabolites in Human Plasma at the outset of participation in the QA program to validate methodology and to value-assign in-house control materials. This SRM may be purchased from the Standard Reference Materials Program at NIST (301-975-2200; fax: 301-948-3730; or e-mail:
srminfo@nist.gov
).
An example figure from the first report illustrating alpha-linolenic acid levels in four study materials is shown below.