Proclamations are an easy way to start a relationship with your policymakers and other stakeholders to support cybersecurity careers. Take action and write to your local or state leaders asking them to support cybersecurity by recognizing Cybersecurity Career Week.
TIPS FOR WRITING A

CYBERSECURITY CAREER

WEEK PROCLAMATION
Issuing a proclamation on behalf of your city, county, town, state, or tribal community is a way to raise public awareness of Cybersecurity Career Week. A proclamation is an official announcement that publicly recognizes an initiative or observance. Proclamations are a great way to educate the public about the contributions and innovations to society that cybersecurity practitioners make. Proclamations are typically signed and issued by federal officials, governors, state legislators, mayors, or other government officials at the local level. Issuing a proclamation designating the third week in October as Cybersecurity Career Week can help inspire and promote awareness and exploration of cybersecurity careers and the events and activities held in your region in honor of this workforce demand observance.
Just follow these three steps:
STEP 1: Getting Started
Before creating a proclamation about Cybersecurity Career Week, contact your state or local officials who may be interested in supporting this effort. Governors, county executives, mayors, state legislatures, municipalities, counties, cities or towns can issue proclamations. For city proclamations, a mayor, city manager or city marshal may be the person to sign. For counties, it will most likely be the county commissioners. You do not have to have both the city and county proclamations; you can decide which entity in your community would reach more people.
Request a proclamation from your local official's website. On the website, you may find a tab called "Ceremonial" or "Forms," under which the proclamation request guidelines may be located. Otherwise, use the site's search feature and type in the word "proclamation." Another option is to look on the "Contact Us" tab. This page may allow you to write a brief message, such as: "How do I ask the Mayor to issue a proclamation declaring the third week in October as Cybersecurity Career Week?"
It's best to e-mail the official or his/her communications office several months prior to the observance and follow up with a phone call, if necessary. Explain the purpose of Cybersecurity Career Week, highlight the local event(s) that will take place during the week, and emphasize the importance of governmental and public support for this observance. Once you receive word that the official will support your efforts and issue a proclamation, it's time to start writing.
STEP 2: Draft your Proclamation 
There are two main styles to choose from when writing your proclamation: traditional and modern. They differ in format; however, the purpose is the same and they are equally effective. While the traditional format is the most frequently used, be sure to clarify which style is preferred with your local official prior to drafting your proclamation. Make sure to insert information or statistics that will resonate with your audience.
The modern approach is to write the document in a letter format. Traditional proclamations begin with a series of statements starting with the words "whereas," meaning "because" or "since." Each clause states the problem or issue being addressed and is followed by a concluding phrase beginning with "therefore," which specifically requests the support or action needed.
Explore samples of past sample proclamations below or modify the sample proclamation template by inserting information about the nature of the issue in your community and by providing local needs data using the Cyberseek.org tool.
Follow the submission guidelines you receive from your local official's office. Be prepared to have an electronic version of your proclamation available. Most offices will print the proclamation on official letterhead or certificate paper, therefore, sending them an electronic version is usually requested.
When you have finalized the proclamation and received any required approvals within your organization, submit the proclamation to your local official's office and allow time for the official to review and sign the document. Follow up to check the status of the proclamation until you receive the signed copy
STEP 3: Publicize
Once you have the signed proclamation, publicize it! Visit local businesses, libraries, schools, college campuses, and/or government buildings to see if they will allow you to display copies of your proclamation. You can also arrange a press conference or town hall meeting and have your local official sign the proclamation there as an additional publicity option. The event can be accompanied by a roundtable discussion about the wide range of cybersecurity job opportunities, how cybersecurity plays a vital role in global society and showcase how building a global workforce enhances each nation's security and promotes economic prosperity. Lastly, you can have your proclamation featured in a local publication to increase awareness. Distribute electronic copies of the document to the "local" or "metro" desk of your town's newspapers, along with a press release to announce the signing of the Cybersecurity Career Week proclamation.
Don't forget to post a copy of your proclamation on your organization's website and share it via Facebook, your organization's blog, social media channels including Twitter using #cybercareerweek, #choosecyber, and #mycyberjob.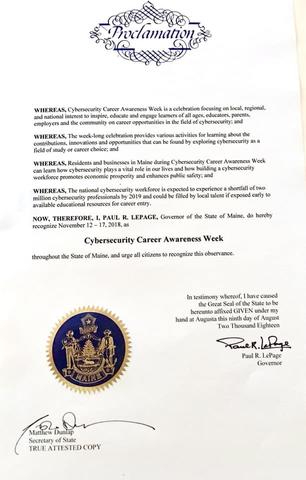 Sample of Proclamation