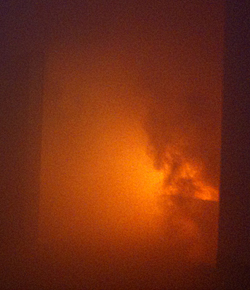 Smoke and simulated-fire conditions on the 10th floor.
Credit: IAFF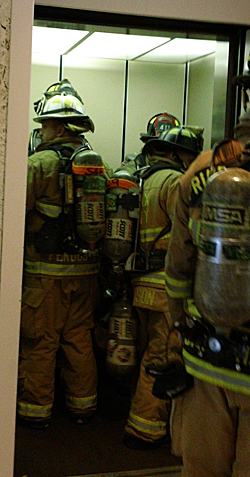 Firefighters enter elevator to ascend to 10th-floor fire.
Credit: IAFF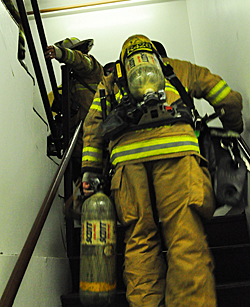 Firefighters climb stairs to 10th-floor fire.
Credit: IAFF
Forty-eight field experiments were conducted in a 13-story building in a systematic study of various deployments of mobile resources and firefighting personnel and their effect on firefighter and civilian safety and the protection of high-rise property. The experiments were designed in consultation with a panel of fire service and technical experts, along with representatives of the 13 participating fire and rescue departments from Maryland and Virginia.
The experiments evaluated crew sizes of three to six members on responding engines (engaged in fighting the fire) and trucks (engaged in search and rescue). They also compared means of ascent—stairs vs. elevator—and two alarm levels: low (three engines, three trucks, two battalion chiefs and two ambulances) and high (four engines, four trucks, two battalion chiefs and three ambulances).
Testing involved 16 scenarios, each a unique combination of crew size, alarm level and type of ascent.
Each scenario involved a fire on the 10th floor, which had an open floor plan configuration of 100 feet by 30 meters by 91 meters (300 feet). The primary fuel load is open-wall cubicle material with typical desk and drawers, computers, printers and office chairs. The scenarios included two victims (always in the same location)—one located on the fire floor and one located on the floor above.
No actual fires occurred during the tests. Instead, fire and smoke simulators (a non-toxic suspension consisting primarily of propylene glycol) were used to create realistic visibility conditions on the 10th and 11th floors. Besides simulating heavy fire and smoke conditions on the fire floor and heavy smoke on the floor above the fire, the displays and generators responded to fire suppression efforts. When a specific task was completed, the equipment ramped down accordingly. Use of the simulators allowed the researchers to create identical conditions for each experiment.
Engine crews could not use water in the rented high-rise building. The researchers worked with participating department training academies to develop a substitute that would weigh and perform as closely as possible to a 2 ½-inch water-filled hose line. Sand was substituted for water in the experiments.
Observers and electronic switches for recording the completion of tasks, along with sensors and other tracking instruments, were strategically placed to record data and to ensure its validity.
Research Collaborators
National Institute of Standards and Technology
International Association of Fire Chiefs
International Association of Firefighters
Worcester Polytechnic Institute
Commission on Fire Accreditation International
Urban Institute
Funding
Federal Emergency Management Agency, Department of Homeland Security, Assistance to Firefighters Grant Program
Participating Fire and Rescue Departments
Arlington County Fire Department
Alexandria Fire Department
Fairfax County Fire and Rescue
Prince William County Fire and Rescue
District of Columbia Fire Department
Montgomery County Fire and Rescue
Howard County Department of Fire and Rescue Services
Fairfax City Fire and Rescue
Prince George's County Fire/EMS Department
Loudoun County Fire and Rescue Department
Metropolitan Washington Airport Authority
Manassas City Fire and Rescue
Stafford County Fire and Rescue
---
Attachments (all PDFs):
Time to Complete Fire Floor Search
Firefighter Exposure at the Start of Fire Suppression
Toxic Exposure for Occupants on Fire Floor
Overall Time to Task Completion Crew Size / Ascent Mode
Overall Time to Task Completion Crew Size / Alarm Size
---