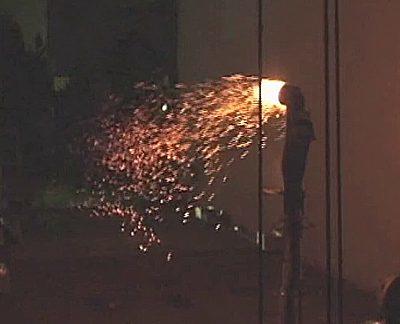 Objective:
To develop and deploy advances in measurement science to improve the resilience of communities and structures to unwanted fires through innovative fire protection and response technologies and tactics.
What is the new technical idea?
There are two new technical ideas, using measurement science to promote: 1) the resiliency of WUI communities by addressing large-scale and infrequent WUI fires and 2) fire fighting safety and effectiveness. For WUI fire resilience, the new technical idea is to implement a mitigation framework for both individual structures and communities. The mitigation framework features three components, a) characterizing potential exposures, b) understanding the response of the structure, sub-division, and community, and c) designing the structure, sub-division, and community to withstand potential exposures. Characterizing the exposure requires understanding the impact of fuel type and configuration, wind, moisture, and terrain. This needs a coordinated effort comprised of targeted lab experiments, field measurements, post-WUI fire analysis, and a range of models including vegetation and structure fire models. Combining the exposure with the response of the structure and community enables the development of measurement science-based tools for improved fire-resistant design and forms the basis for improved WUI fire building test methods, standards, and codes.
The new technical idea for fire fighter safety and effectiveness is to incorporate cyber-physical systems and to develop performance metrics and standard test methods that directly relate to the operating environment and fire fighters' tasks. If relevant performance data is available for existing equipment or tactics, then a meaningful performance metric can be developed, but too often the necessary data is not readily available. For protective clothing, there is a significant amount of data for new protective clothing, but very little data on used or soiled clothing. There is very limited data available on the performance of radios under typical fire conditions. Lab- and full-scale tests will provide the necessary data to generate comprehensive metrics for existing equipment. For emerging technologies, industry often has little understanding of the operating environment or requirements of the fire service. Lab- and full-scale tests in combination with science-based metrics will allow industry to evaluate and improve their own products and develop new technology. Cyber-physical systems offer new opportunities in situational awareness, to enable robotic intervention in fires, and ultimately, to improve fire fighter safety and effectiveness.
What is the research plan?
The research plan includes three thrusts 1) improve fire resilience of wildland urban interface communities, 2) improve the safety and effectiveness of fire fighters, and 3) cross cutting research through Fire Research Grants.

The first research thrust improves the resiliency of communities to infrequent, but large-scale adverse WUI fires incidents and includes three elements: 1) reduce fire spread among structures within a community, 2) reduce the ignition of structures, and 3) incorporate research results into wildland-urban interface (WUI) building, fire codes, and standards. Building upon the characterization of flame spread on individual components such as decks or fences in the previous phase, this phase of WUI fire spread element will assess the vulnerabilities to fire spread as several components are combined into structure assemblies. The current phase will examine how decks or fences cause a fire to spread to structures, as well as how wind, moisture, and terrain affect the fire spread. This effort will characterize the fire exposure through collection, analysis, archiving post-fire data in NIST Disaster and Failure Studies Program database, and incorporating wind into the Fire Dynamics Simulator (FDS) for WUI applications [xiii]. An emphasis is place on examining how structures ignite. The current work will characterize how roof shingle or landscaping mulch ignition can lead to attic or exterior siding ignition. This will need an integrated science-based effort comprised of targeted laboratory experiments and a range of models including vegetation and structure fire models. A Guide for implementing technical solutions and beginning to develop science-based performance metrics for mitigation of WUI ignition and fire spread will build on the August 2012 WUI Building and Fire Codes Technical Solutions Implementation Workshop.

The work will involve transferring the improved characterization of exposure and response of structures and communities to building and fire code, and standards committees.

The second research thrust improves the resiliency of communities and includes three elements, which enhance the safety and effectiveness of fire fighters through improved equipment and operational tactics. Expanding upon the high temperature performance of respirator results obtained previously, the current effort will address the high temperature performance of fire fighter electronic equipment including radios and fire fighter locators, and fire fighter protective clothing. Test methods will be developed to assess the performance of fire fighter equipment under realistic high temperature, rough duty, environments. The current phase of the tactics work will build upon the understanding of fire behavior that was gained previously on ventilation tactics. There are no national fire fighting standard operating procedures or tactics. Instead, tactics are developed locally and influenced by tradition and experience, not necessarily fire science. Measurements are needed to determine the capabilities and limitations of fire suppression techniques in real scale structures to provide a basis for science-informed tactics. Advances in cyber-physical systems will be exploited through development of performance standards for firefighting equipment, apparatus, and robotics.

A third thrust involves cross-cutting research that addresses key aspects of the national fire problem and supports the strategic objectives of the fire programs within EL's Disaster-Resilient Buildings, Infrastructure, and Communities Goal. Several continuing and new cooperative agreements will support researchers external to NIST on a range of topics, including characterization of ignition in the WUI, fire modeling, and improved understanding of the thermal performance of self-contained breathing apparatus for use by structural fire fighters.