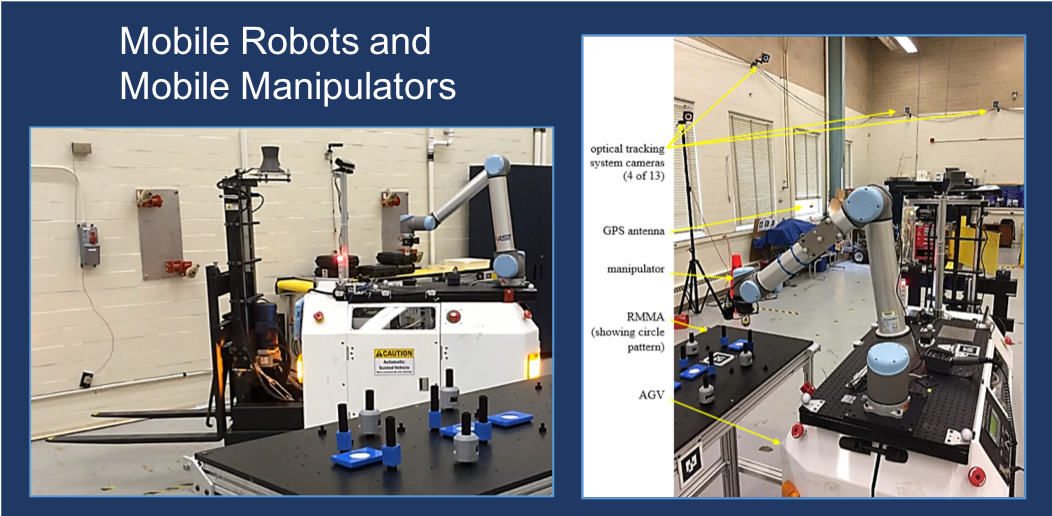 Mobile robots and mobile manipulators (robot arm onboard a mobile robot) have been popular research topics for use in marine, undersea, agriculture, space, rescue, and industrial applications – not for assembly. Mobile manipulators are now becoming commercial tools for industrial use in material handling, for example truck unloading bags of dog food and wafer pod handling with the base fixtured to a workstation. For industry acceptance and standards development, users of new mobile manipulator systems will expect manufacturers to provide real performance data of these systems for:
Procurements
Application to appropriate tasks
To replicate manufacturers tests or for recalibration where the measurement method must be inexpensive and simple to perform
Research considerations have focused on coordination of movements of the robot and the base since redundant degrees-of-freedom exist in mobile manipulators.  However, measurements of mobile manipulators performing standard tasks (e.g., poses and motions) are non-existent except for simply demonstrating that the task was completed.  Mobile manipulators are relatively complex machines, typically from two or more manufacturers where a generic description of the system and how to measure them is ideal for standardization across the mobile manipulator industry.
NIST has been developing a performance measurement test method using an artifact called the reconfigurable mobile manipulator artifact (RMMA) to evaluate the mobile manipulator for assembly tasks.  
NIST Grants for Mobile Manipulator Research
Marquette University, Dr. Henry Medeiros, PI – dynamic mobile manipulator performance measurement
The Cooper Union for the Advancement of Science and Art Department of Mathematics, Dr. Mili Shah, PI –mobility system data analysis