The free market frequently works well for determining how resources should be allocated. However, there are barriers that prevent the free market from reaching an optimal solution in all situations. When this happens, it is typically called a market failure. Multiple market failures serve as a barrier to the adoption of a sustainable economy. Many of these, amount to mismatches in incentives. Figure 2.1 from NIST AMS 100-48 maps the life cycle of a product and its materials and identifies some challenges to adopting a sustainable economy.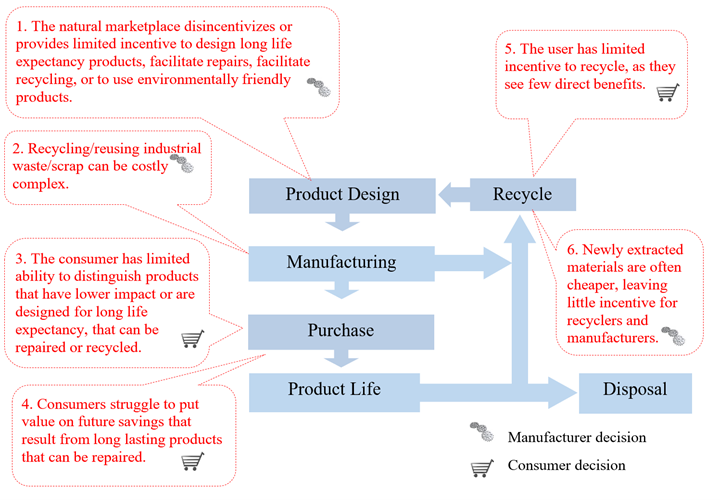 Challenges can be grouped into three primary incentive misalignments:
Design for longevity/reuse/repair/recycle and using materials/energy with a smaller footprint: costs of design and production are borne by the manufacturer while benefits are experienced by society (i.e., reduced environmental impact).
Recycling: The user and manufacturer bear some costs of recycling (e.g., separating, transporting, and fees) while the benefits are experienced by society as a whole
Decreasing waste, energy use, and material use: Producers and consumers bear the cost of purchasing or using methods/items that decrease waste, energy, and material use while society experiences the benefits
Solutions to creating a sustainable economy are captured in five categories from NIST AMS 100-48:
Cultural solutions: putting ethical or moral pressure on companies and/or individuals to adopt practices related to a sustainable economy
Information dissemination: educating companies and/or individuals on issues related to a sustainable economy
Technological solutions: developing new technologies or adopting existing technologies that facilitate a sustainable economy
Standards: developing standards that facilitate the adoption of practices related to a sustainable economy
Legislation: Mandating practices related to a sustainable economy and/or implementing taxes, providing subsidies, or providing other policy-based incentives for adoption of such practices
The solutions work through six means identified in NIST AMS 100-48:
Increasing longevity of products

Producing energy using environmentally friendly technology

Recycling

Reducing material and energy use

Reusing/repairing products

Using products/materials with a smaller impact
Individual solutions can be categorized by solution type, the means by which they achieve sustainability, and their primary effect on the misalignment of incentives (i.e., increase costs of unsustainable activities, decrease the cost of sustainable activities, realignment of incentives, or mitigate negative externalities), as illustrated in Table 2.1 from NIST AMS 100-48. For instance, consider a standard that develops a metric measuring the expected life of a product. This would allow consumers to reliably predict and compare product life-expectancies so that, if they want, they can choose longer lasting products. This would fall under the "Standards" row and "Increase Product Longevity" column. In terms of sustainability, this standard realigns incentives, which is represented with the symbol Ꙩ. Another example might be a material standard for plastics that standardizes plastic additives. This might increase the cost of producing some products; however, it would decrease the cost of recycling through economies of scale (i.e., decrease the cost of sustainable activities, which is represented with -$), as more plastics could be recycled together. That is, if a firm decides to increase their sustainability by using materials that can and will be recycled, the true cost of doing so is decreased as a result of the standard. Otherwise, the firm might, for instance, have to invest in developing recycling facilities specific to their material. This standard would fall under the "Recycle" column and "Standards" row, as it is a standard that facilitates recycling.