A Baldrige Examiner Brings the Framework to a Faith-Based Organization 
The
Baldrige Performance Excellence Program
stresses that the
Baldrige Criteria for Performance Excellence
can be used by organizations in any sector and of any size to promote continuous improvement and success. As we've shared stories of business, education, health care, and various nonprofit organizations that have found the framework beneficial, we've also received several requests for information on using the Baldrige Excellence Framework in faith-based organizations in particular. So I was pleased to hear about an example this year from a former Baldrige examiner who was willing to share the details widely.  
The story emerged in Baldrige examiner training this spring: Efrain Solis—senior project manager at 2016 Baldrige Award-winning Memorial Hermann Sugar Land Hospital (MHSL) in Texas—mentioned that beyond his paid work, he had been helping his pastor use the Baldrige framework to optimize church operations. Solis might be called a model Baldrige "ambassador"—as he generously and enthusiastically lends his expertise in organizational performance improvement for the benefit of others. (His personal aim is "to positively affect the lives of a billion people.")
In the following interview, Solis describes how his church began using the Baldrige framework—starting with conversations between Solis and the lead pastor—to strengthen the organization's everyday approaches to achieving its faith-based mission.
Tell us how you got started in helping a religious organization use the Baldrige Excellence Framework.
Solis: Shortly after [MHSL] received the 2016 Baldrige Award, I was asked by my lead pastor at Saint Peters United Methodist Church (SPUMC) in Katy, Texas, to take a lay leader role in the church council. I agreed to the two-year commitment, which involved assisting with guidance and governance of church outreach efforts and impact. After spending some time in the position, I saw an opportunity to contribute in a different way: I saw that the Baldrige framework could assist us with listening to the voice of the congregation [see the "voice of the customer" in category 3 of the Baldrige Criteria] in order to better align various efforts to what truly matters to SPUMC, that is, connecting the world with God's love.
SPUMC Lead Pastor Pat Sparks: Efrain saw a need that we had and offered his expertise to help us move toward being a healthier church and to focus on our mission, vision, and values.
How did you persuade people in the organization of the value of using the Baldrige framework?
Solis: I wouldn't say I persuaded but, rather, I demonstrated the value and let them decide for themselves. While I mentioned the Baldrige framework as a guide, I didn't and still don't use the word Baldrige in any of my efforts with SPUMC. I use the Criteria questions in a targeted way while considering [the Baldrige organizational evaluation factors] Approach, Deployment, Learning, Integration (ADLI). Although I reference processes that I know to be best practices at MHSL and other organizations, the value proposition to the leadership of the church is simply the structured approach to success resting on the foundation of the organization's mission, vision, and values. The focus is on obtainable strategies that can take SPUMC where it needs to go. I think it's a beautiful thing to see a fundamentally proven process for organizational improvement working in a faith-based environment.
Sparks: When Efrain explained how he thought this process would be helpful to me and to St. Peter's, I immediately accepted his offer to help us.
Tell us how you structured and proceeded in your work with the organization.
Solis: Initially I worked with the lead pastor and my counterpart in the lay leadership with some relatively basic self-assessment questions from Baldrige Excellence Builder [a simpler version of the Baldrige Criteria] to determine the current state of SPUMC (i.e., the level of organizational performance in terms of a maturity model).
Shortly after that, there was a transitional moment where we needed to reflect on the voice of the congregation to better understand people's needs and create an environment for two-way objective feedback between church leaders and congregants. At that point, we decided that I would facilitate focus groups one day a week over four weeks, with some people connected electronically. Collectively, it took an additional four weeks to aggregate and analyze the input of the 274 participants in this large-scale effort.
I next shared the findings with the leadership and then the congregation at large in order to develop action plans, in the same way that Baldrige practitioners in businesses and other organizations do, focusing on strengths and opportunities for Improvement. I even modeled how these might read as comments in a Baldrige feedback report in the format that any examiner would recognize right away. I would offer as a caveat that because faith is a personal journey, people's emotions can sometimes override objectivity when they receive critical feedback. With that in mind, I was quite careful in how I crafted my feedback so that it would not be conflicting and so that it would be actionable in order for the leadership to do something with it.
Sparks: I felt it was helpful for Efrain to focus on the areas that would help us move forward in a positive way and to keep the comments that would sidetrack this effort out of the conversation.
What do you anticipate will be the benefits for the organization?
Solis: The short-term benefits of this experience include the creation of an environment where the congregation could share their joys and concerns in a constructive way. The output of this was a well-defined vision statement, new values, quantifiable goals, and a focus on evaluating efforts for their impact.
Sparks: We have seen immediate results from the process, with more focused and energized leaders who are excited to help us live out our mission, vision, and values.
Solis: For the long term, while no one can predict the future, I have faith that our efforts have supported a lasting shift to help future generations enjoy all that SPUMC does. I see goal setting reaching ever-increasing levels of maturity and engagement from the members who are bringing their expertise to their place of worship. I'm naturally optimistic, and I see this place becoming more successful year after year.
Sparks: I truly believe this [Baldrige framework and process] will be a tool for St. Peter's to use as we move into the future. It will be helpful to regularly check in with our members to make sure we are meeting expectations and forming goals that will help us become even more effective.
Would you please provide a few examples of the progress made by the organization so far?
Solis: Over the last year, a new value system has been defined, a more focused vision statement has been written, and a myriad of other improvements have started paying dividends for the organization. Those include higher satisfaction among church members and the staff, as well as growth in key market areas. As for my role, I simply try my best to spark conversations based on what I see as opportunities to nurture a strength or make beneficial changes.
Would you please comment on how you see your role as a "Baldrige ambassador"?
Solis: I have a relentless passion and sense of purpose for this great program that has given me so much. It's a part of my identity now, that I share with people from all over the country and certain parts of the world. The term ambassador is quite fitting in that when you start to advocate for something, you become an agent for the adoption of an idea. That idea, if nurtured and demystified, can take hold and grow into something extraordinary. I greatly enjoy helping people get on the path to performance excellence.
What other kinds of organizations in your community (or beyond) would you like to see benefit from using the Baldrige framework?
Solis: For a little while now, I've been playing with the current Baldrige Criteria to see if I can make versions specifically for use by religious organizations and families.
In my mind, the religious criteria for performance excellence would be a tremendous benefit to all institutions of faith. Since these organizations tend to be the cornerstones of our communities, I see this as an incredible opportunity.
The family criteria would look quite different, though it would be based on the same core principles of the Baldrige Criteria for organizations. I think having a well-defined family mission statement could help families stay together; criteria questions could consider everything from how to stay connected with extended family members to long-term planning of resources and care for all members. Imagining such a Baldrige-based framework for family excellence is exciting to me; I know my own family could benefit from this, among many others.
---
A Systems Approach to Improving Your Organization's Performance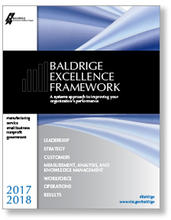 Baldrige Excellence Framework
The Baldrige Excellence Framework has empowered organizations to accomplish their missions, improve results, and become more competitive. It includes the Criteria for Performance Excellence, core values and concepts, and guidelines for evaluating your processes and results.
Available versions: Business/Nonprofit, Education, and Health Care
---